Providing Opportunities to Deepen Knowledge of and Affinity for Our Brand and Products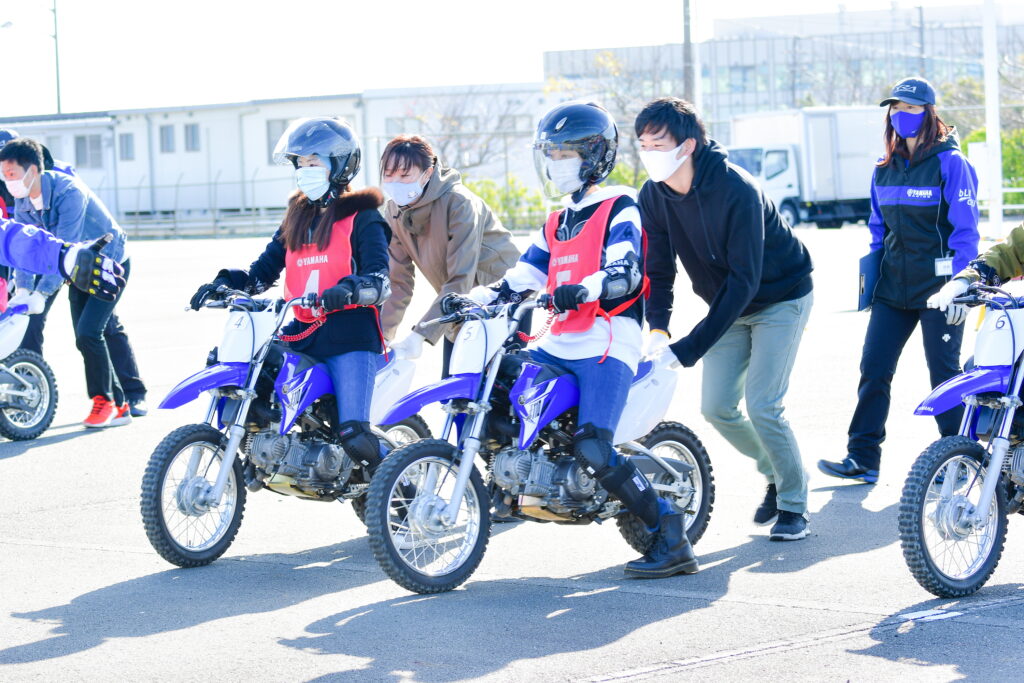 Participants learning to operate a motorcycle for the first time are supported by work colleagues ,family members and friends
At Yamaha Motor headquarters in Japan, a company parking lot was the stage for holding motorcycle riding lessons specifically for women employees. The idea behind this initiative is that having participants experience the fun of motorcycling firsthand will not only deepen their own understanding of and affinity for Yamaha products, but will also allow them to better understand what it is like for customers.
These lessons drew many women looking to ride for the first time and called on the instructive know-how of the Yamaha Riding Academy (YRA), a program promoting riding safety all around the world. The results of the event have been exciting, including more of our employees now looking to acquire motorcycle licenses.
Gaining a Better Understanding of Our Customers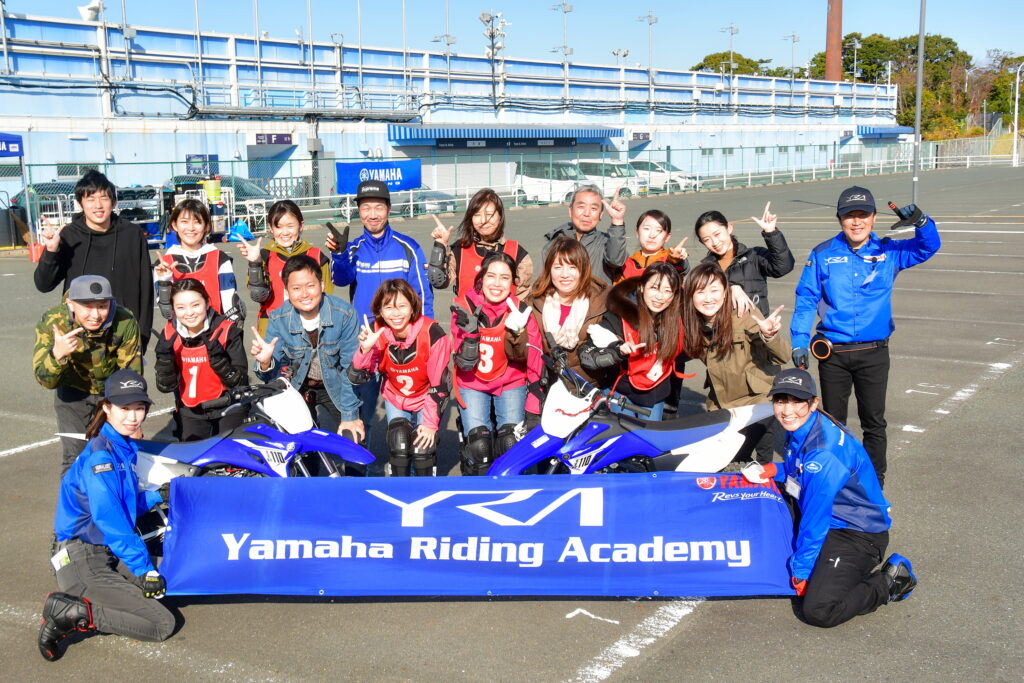 Prior to the lesson just 48% of the participants indicated that they were looking to get a motorcycle license but from the post lesson questionnaire that number had changed to 100%
Last November at Yamaha Motor headquarters, the company held its Bike Lessons for Women Yamaha Employees event, with participation open to women employees working at Yamaha Motor group companies in Japan. "It was my first time to really experience the sound and vibration of an engine beneath me," commented one participant. "Unlike a car, I could clearly tell that I was physically controlling the machine, and feeling the wind made it a more direct connection with my surroundings. I think I was able to have a full-body experience with the joy that our customers feel from our products."
Harumi Ota was in charge of planning and running the event. "Because we are a company that manufactures motorcycles, there are naturally many women employees who already have motorcycle licenses. But in talking with our younger employees, I would often hear them say that they had no one to ride with or that they had little reason to go out and ride," says Ota. "I wanted to give them a reason or opportunity to ride and that's what led to the start of this event. In planning it, I thought that giving them chances to have fun riding would lead to a deeper affinity for the company, our brand and of course our products, and that it would also make their day-to-day duties more enjoyable. But more than that, it would allow them to better understand what our customers feel when they enjoy using a Yamaha. I believe that this is the most important facet of the event."
Helping Encourage Workplace Diversity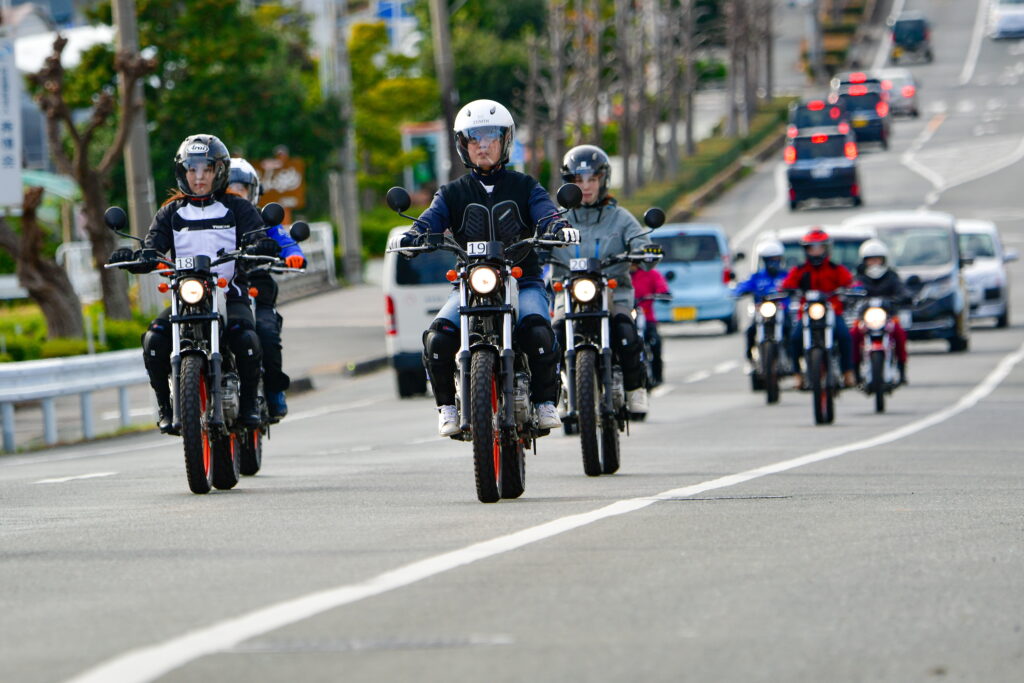 The day of the lesson brought together a motivated group of participants beaming with smiles and the occasional enthusiastic cheer. While some employees did not have motorcycle licenses, others did but had been away from bikes for an extended period or had newly acquired ones and were still nervous about their riding skills. So, the participants were divided up into groups by experience and skill level for the lessons, and those without licenses were given extra support from work colleagues, family members or friends.
Putting on the riding gear brought embarrassed laughter from some, while others shouted with joy when their engine fired up. But the women's initial excitement quickly made way for calm and focus once they were finally seated on their bikes. The words and advice the instructors shouted out to them as the lessons went on were thoughtful and encouraging: "Slowly now, slowly." "Let's keep our shoulders relaxed." "See? You did it! Well done!" "Everyone gets tense and feels some degree of fear the first time they ride a motorcycle," explains Ota. "So, all of us, the staff and instructors, put our heads together to make sure that the participants would leave away with good memories from their first-ever motorcycle ride."
Yamaha Motor as a company aims to create workplaces that benefit from diversity, and we conduct various initiatives to support our women employees, such as our Women Leaders Training program. As one participant commented afterwards, "To me, the way Yamaha provided us with this opportunity is, I think, another good example of the kind of employee support that makes the company special."
The course for employees with motorcycle licenses culminated with group touring on public roads. Although it was only an hour-long ride led by the instructors, it seems to have played a pivotal role in inspiring participants to make motorcycling part of their lifestyle again.
Potential for Building Greater Demand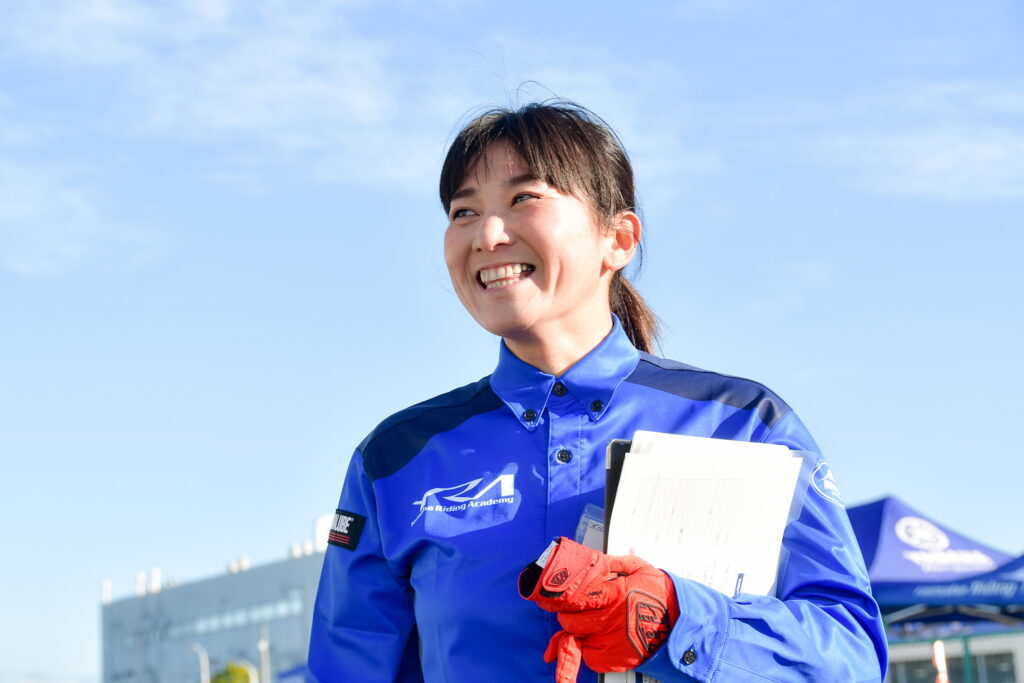 "I hope that firsthand experienc es of what makes our products special will bring more fun to the workday s of our employees says Harumi Ota, the planner and leader of this event
To encourage safe and proper use of our motorcycles and other products, Yamaha Motor conducts its Yamaha Riding Academy (YRA) safety education and promotion program in locations around the world. Besides courses tailored to our customers, we also actively hold YRA courses for commercial and civil service bodies using Yamaha products, from bike taxi operators to police forces. To ensure that we can continue expanding these services going forward, we know that training highly qualified instructors is a vital part of the formula.
Currently, we have 45 YRA trainers certified by Yamaha Motor headquarters in 15 countries. These trainers hold special YRA courses for instructor training and certification in various countries, and there are 182 certified YRA instructors active today in 31 countries. With the restrictions put in place due to the COVID-19 pandemic in 2020, the program initiated a new online safety course that was held over 3,500 times with some 67,000 participants.
Ota herself is a certified YRA instructor. "What we did this time, giving employees without motorcycle licenses an opportunity to experience riding a bike, also had added meaning as a test-run toward creating a new type of program," she says. After implementing such a program in Japan as an action toward building new demand, she hopes to see this initiative taken overseas to markets around the world.
https://www.youtube.com/watch?v=gg1Sr_gO51g