Hikari Miso Co., Ltd. is the first in the miso industry* to create the original flavor wheel that defines the characteristics of miso. Hikari Miso confidently believes that any trading partners, chefs, and consumers worldwide utilize "Hikari Miso Flavor Wheel" to help them select the miso that best suits their individual needs.
*Public information as "Flavor Wheel of Miso" (own research, October 2022)
What is a Flavor Wheel?
Flavor Wheel is one of the tools to express the characteristics of food (taste, aroma, texture, color, etc.). It is used to evaluate the taste of beverages and alcoholic beverages, such as coffee and wine, and to suggests consumers for good match between food and drink. In Japan, the Flavor Wheel has been presented for sake, soy sauce, etc., which are unique to the country.
"Hikari Miso Flavor Wheel" Development Process and Method
Miso, a traditional Japanese food, has a variety of characteristics depending on the regions and manufacturers. We created the "Hikari Miso Flavor Wheel" in the belief that it makes the sensory expression of miso a common language, so everyone can enjoy to understand the difference among many varieties of miso. Sensory evaluations were conducted using seven distinctive miso products, and discussions were held with reference to 165 different sensory expressions. Since the aroma and taste of miso changes when it is cooked to make miso soup, we created a wheel that distinguishes miso paste as "paste" and miso soup as "soup", and devised ways to convey each attribute. Including the evaluation of color, which is an essential quality of miso, we defined forty different characteristics to install into our original "Hikari Miso Flavor Wheel".
As a leading global miso manufacturer, we have also completed an English version of "Hikari Miso Flavor Wheel" for use by our overseas customers. Hikari Miso is very much willing to make best use of "Hikari Miso Flavor Wheel" to help enhance the trading partnership and to help any miso consumers and users enjoy varieties of miso. 
Definitions of the words "color, texture, and aroma"
Gloss: Fresh luster (used for white miso)
Glaze: Strong luster as if shining back (used for red miso)
Matte: Grayish dark color
Harsh: Bitter taste that tangles on the tongue (lye from bamboo shoots, wild vegetables, spinach, etc.)
Koji: Cultured rice, Ingredient of miso
Sake kasu: Sake lees, by-product of sake making process
Ginjo aroma: Aroma of fermentation with sweetness
Sharp: Sharp and salty sensation
Kinako: Roasted soy flour
Smokey: salty and savory (smoked, smoldering)

Color swatches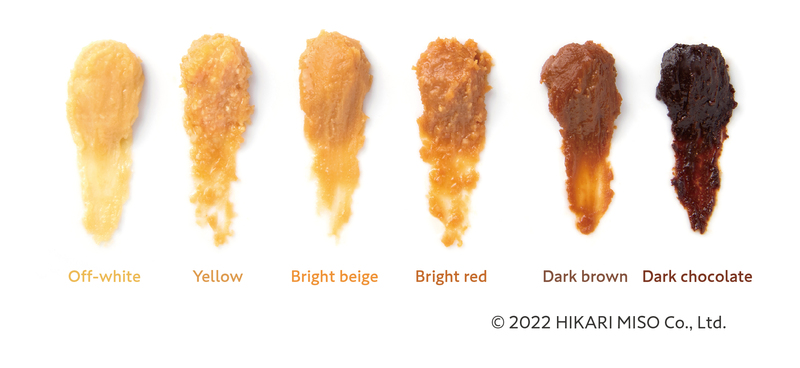 HIKARI MISO Co., Ltd.
https://hikarimiso.com/