Orange Cube's new rogue-like title Labyrinth of the Witch is going international on the App Store and Google Play!
Orange Cube Inc. brings its dungeon-crawling RPG "Labyrinth of the Witch" to adventurers in select locations worldwide on December 20th. This is a rogue-like for everyone, where beginners to veterans will be able to take on randomly generated dungeons using their wits and a multitude of items and equipment. With Prof. Sakamoto in charge of the game's soundtrack, players can dungeoneer to some of the finest chip-tunes that exist. Labyrinth of the Witch has already been well received in Japan, earning an average user review score of 4.6 on the App Store. The game was featured as a Game of the Day on the App Store and has received high praise from Japanese gaming media outlets as well.
A simple dungeon exploration RPG that anyone can play!
Strategically use a multitude of items to tackle ever-changing dungeons.
A Rogue-like for Anyone and Everyone
This simple, easy-to-play dungeon exploration RPG is free of difficult game mechanics.
Easily play anywhere on your smart phone. Pick up from where you left off at any time with the auto-save feature.
Share Your Adventures with the Replay Feature
Whenever you're defeated, the game auto-saves a 30-second replay. Share your action-packed final moments with your friends!
Speedrun Faster than Anyone!
Built for the speedrunners, take on the Speedrun Dungeon armed with only your wits (no starting items!) and find your own gear!
Pixel Art at its Best
State-of-the-art pixel art and animations bring your adventures to life!
Labyrinth of the Witch
Genre: Game > Rogue-like RPG
Price: Free (In-app Purchases)
App Store
https://itunes.apple.com/jp/app/id1202139907?mt=8
Google Play
https://play.google.com/store/apps/details?id=jp.orange_cube.dotrike
~STORY~
In the unexplored land of Astraea, there lies a labyrinth in which a mysterious treasure sleeps.
It is called The Labyrinth of the Witch, created by the power of the great witch Morgaine.
Legend has it that the depths of the labyrinth conceal a mystical stone that grants its holder one wish.
Many an adventurer has chased that rumor.
However, few are those who have made it to the end.
For due to Morgaine's magical power, the labyrinth changes each time it is entered.
Now, yet another adventurer sets their sights on Astraea…
Promotional Images and Gameplay Screenshots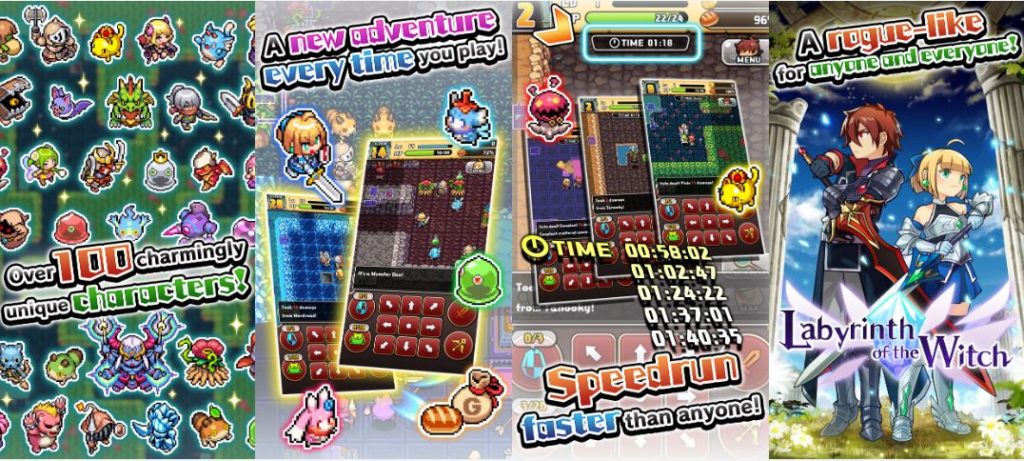 Promotional video
Official Twitter
https://twitter.com/majo_meikyu
Planning & Development
Orange Cube Inc.
http://orange-cube.jp/
– The information presented in this press release is valid as of the release itself's date and subject to change without notice.
– Names of products and companies mentioned are trademarks or registered trademarks of their respective owners.
– Copyright information follows as below.
Copyright (c) Orange Cube Inc. All Rights Reserved.