silex technology Demonstrates the Industry's First 802.11ah Sub 1GHz Module and Access Point at IoT/M2M EXPO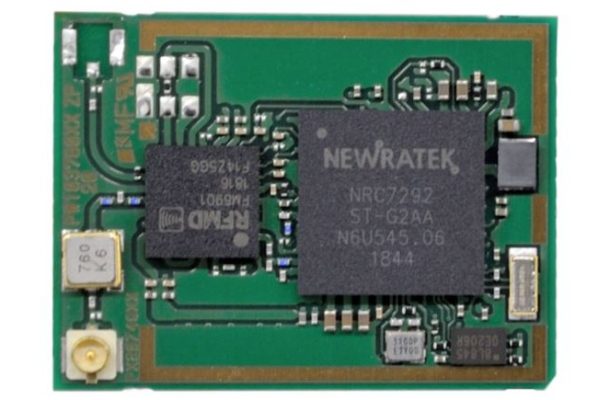 SX-NEWAH Delivers Unmatched Advantage for Conventional LPWA Technologies
silex technology, Inc., a global leader in wired and wireless networking solutions, today has announced that it would demonstrat the industry's first 802.11ah Sub 1GHz Module, the SX-NEWAH , together with a corresponding access point, the AP-610ACH that supports 802.11ah/ac/abgn, at IoT/M2M EXPO held in Tokyo Japan.
Powered by NRC7292 System-on-Chip from Newracom, SX-NEWAH is compliant with the IEEE 802.11ah standard and operates in the Sub 1GHz license-exempt band. It provides a much greater range over 2.4GHz and 5GHz Wi-Fi technologies and a much higher data rate than conventional existing LPWA such as LoRa and Sigfox. Unlike these proprietary technologies, the SX-NEWAH built upon 802.11ah technology is designed to operate in IEEE standards. Combined with the AP-610ACH, the unique solution enables streamlined data transfer interoperability with existing Wi-Fi networks while meeting upto 1Km long range data transfer with low power consumption requirements. It opens up unlimited possibilities for various remote monitoring applications such as industrial sensors, elderly monitoring, security surveillance, building automation and agricultural IoT.
According to Techno System Research, Japan, the LPWA market volume of major LPWA technologies will reach up to 430 million units by 2023, compared to about 83 million units in 2018. While there have been many various proof of concept implementations using current LPWA technologies such as LoRa, Sigfox and NB-IoT, they have yet to see a wide adoption in the actual use in the market. One of the common challenges is how this technology can seamlessly communicate with existing Wi-Fi network without having to invest in a complex and costly infrastructure.
802.11ah is an IEEE standard which operates in frequency bands below 1 GHz. This lower part of the spectrum can penetrate walls and other physical barriers, which means better ranges than the current 2.4 and 5 GHz WI-Fi bands. It offers longer ranges, low power connectivity and interoperability to existing 802.11ac/abgn products. In addition, it is designed to be able to transmit data from 150kbps up to 4Mbps, depending on the applicable country regulation, which is much higher data rate than any other LPWA technologies.
silex has partnered with Newracom to bring the 802.11ah solution using the industry's first commercially available 802.11ah SoC, the NRC7292. The newly announced SX-NEWAH adds a unique value to silex technology's embedded wireless and wireless product portfolio that have been selected by a number of global OEM customers with "Always-On" robust and reliable connectivity needs. The two companies plan to jointly collaborate to promote the solution on a global basis.
"We are excited to be able to publicly show the capability of our first 802.11ah solution with Newracom," said Nobuhiko Miura, Executive Officer, Global Marketing Center at silex technology, Inc. "Newracom has demonstrated a high degree of support capabilities let alone the leading edge technology know-how " "We expect to have even stronger relationship by working together to bring the solution to our mutual worldwide customers"
"Silex has a very strong customer support reputation and unique position with a proven success in some of our target markets such as industrial and medical segments, especially Japan and North America. We see a good synergy in collaborating to develop new business when the customer needs quality support and module product solution" said Dr. Sok Kyu Lee, Chief Executive Officer of Newracom, Inc. "Together, we are confident that we can accelerate the adoption of 802.11ah product and services on global basis. "
silex technology, Inc. is a member of 802.11ah Promotion Council in Japan. Newracom is the only 802.11ah technology provider selected by the 802.11ah Promotion Council.
SX-NEWAH Features:
– Based on the NRC7292 SoC
– IEEE 802.11ah (AP & Station)
– SPI host interface
– Operating Voltage 3.30±5%
– Industrial temperature range of -40 to +85°C
– Dimension 20.5mm x 27mm x 3.1mm
– Surface mount form factor
– MHF antenna connector x 2
About Newracom
NEWRACOM, Inc., located in Lake Forest, CA has speedily become a leading developer and fabless of IoT-enabled wireless connectivity chipsets. We specially provide a broad range of Wi-Fi (IEEE 802.11ah and IEEE 802.11b/g/n/ac/ax) that cover various connectivity needs in our lives. With its extensive and diverse Wi-Fi solutions, NEWRACOM enables customers to do what we call "one-stop shopping," giving a comprehensive solution that can serve multiple IoT applications including Smart Grid, Wearables, Smart Home and Office, Healthcare, and Industrial Automation. For more information, please visit online at http://www.newracom.com.
About silex technology, Inc.
silex technology builds on more than 40 years of hardware and software connectivity know-how and IP, custom design development experience, and in-house manufacturing capabilities, bringing value to customers with a foundation of technical expertise. With relentless attention to quality and strategic partnerships with leading semiconductor providers, silex technology is the global leader in reliable Wi-Fi connectivity for products ranging from a medical device to a document imaging product to various visual connectivity solutions. With silex technology, customers get a single vendor that provides hardware and software support from design through manufacturing for successful product after successful product. For more information, please visit silex technology at http://www.silex.jp.
Media Contact:
Global Marketing Center, silex technology, Inc.
press@silex.jp
Phone:+81-774-98-3781
2-3-1 Hikaridai, Seika-cho, Kyoto 619-0237, Japan