"Kula Diamond", who first appeared in "THE KING OF FIGHTERS 2000", is now available in "Valkyrie Connect" as a powerful Water element hero. With powerful attacks, players will be sure to want to add "Kula Diamond" to their collections. She also receives boosted stats in the "Invitation From Another World" quests and "Omega Rugal Strikes!" event.
▼Character Details: Kula Diamond
Row: Melee
Race: Therian
Skill: Attack an enemy with heavy Water damage, applying a Freeze effect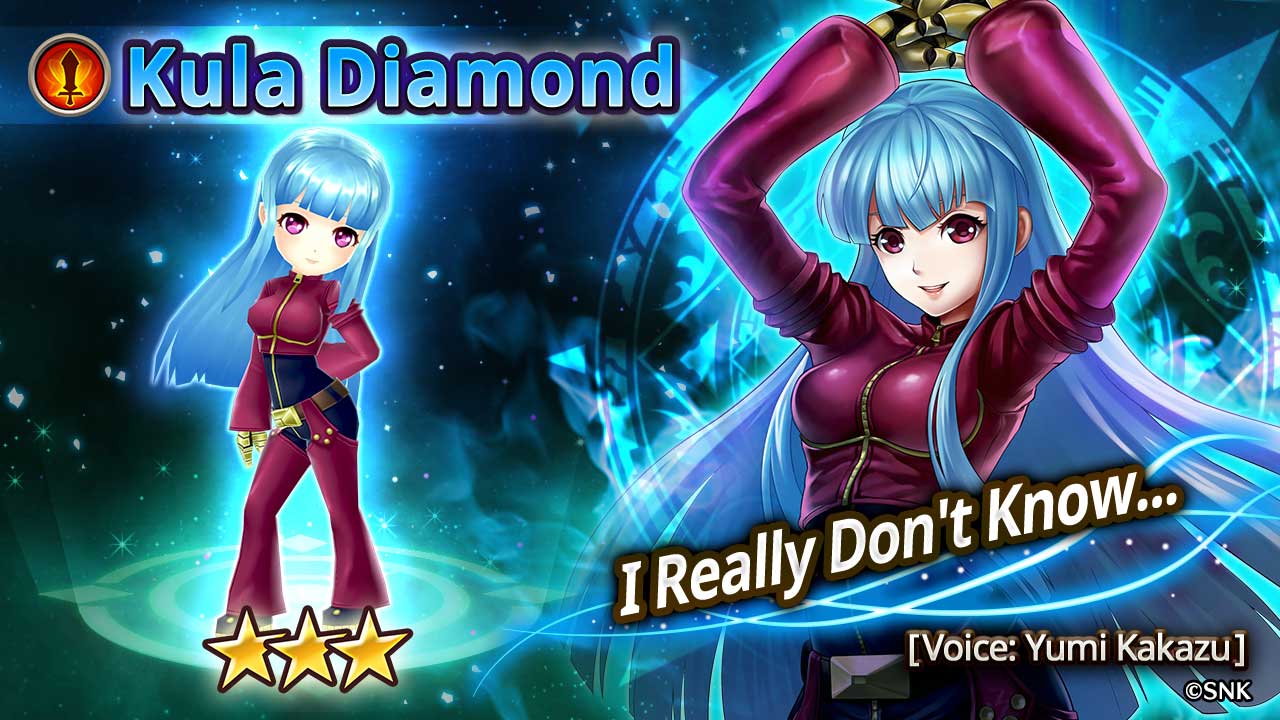 New Hero "Kula Diamond" Appears at 5-Stars in "KOF Party" Summon Event!

"KOF Party", in which players can summon all "KOF" collaboration heroes previously released in summons, is now available. The new "Kula Diamond" appears at 5-stars, making her an immediately very powerful addition to any player's party!
Availability: 2017/9/19 (Tue.) 06:00 – 2017/9/26 (Tue.) 06:00 UTC
Available heroes: "Kula Diamond", "Athena Asamiya", "Iori Yagami", "Mai Shiranui"
■About "THE KING OF FIGHTERS" ("KOF")
The first installment in "THE KING OF FIGHTERS" ("KOF") series of fighting games was released to arcades in 1994 and featured three-on-three battles. The cast features popular characters from other SNK games such as "Fatal Fury", "Art of Fighting", "Ikari Warriors", "Psycho Soldier" and more. "KOF XIV", the 14th game in the main "KOF" series, was released in 2016 to worldwide acclaim.
Copyright display: ©SNK CORPORATION ALL RIGHTS RESERVED.
■About Ateam
Ateam is a smartphone game and tool developer that produces high quality applications enjoyed by millions around the globe. Among Ateam's repertoire are internationally acclaimed titles "Dark Summoner", "War of Legions", and "Unison League".
"Dark Summoner", a dark fantasy adventure game, initially launched in February 2012 and took the smartphone world by storm reaching the number one spot in the North American Google Play™ grossing ranks.
"War of Legions", released in August 2013, reinvented PvP battles being the first smartphone game to feature guild battles in real-time between players around the globe. To date, "War of Legions" has achieved two million downloads worldwide.
"Unison League" hit app stores the world across in May 2015 and soon after climbed up the North American iTunes App Store grossing ranks to 54th place.

■About Valkyrie Connect
"Valkyrie Connect" is a high fantasy RPG that combines Norse mythology with a unique Japanese anime flavor. Created by the all-star team that made Ateam's hit "Unison League", "Valkyrie Connect" rocketed up the Japanese sales charts shortly after release and was chosen as one of Google Play's top games of 2016 in Japan.
Players assemble a collection of heroes, villains, gods and more to fight in full 3D real-time battles. The co-op Connect Battles are the game's signature feature, and require players to fight alongside one another in real time to take down massive bosses. With a simple battle system perfect for mobile devices, complex party composition, and excellently written characters, "Valkyrie Connect" has earned its place at the top. Additional updates and coming content will continue to cement it as the premier RPG for mobile devices!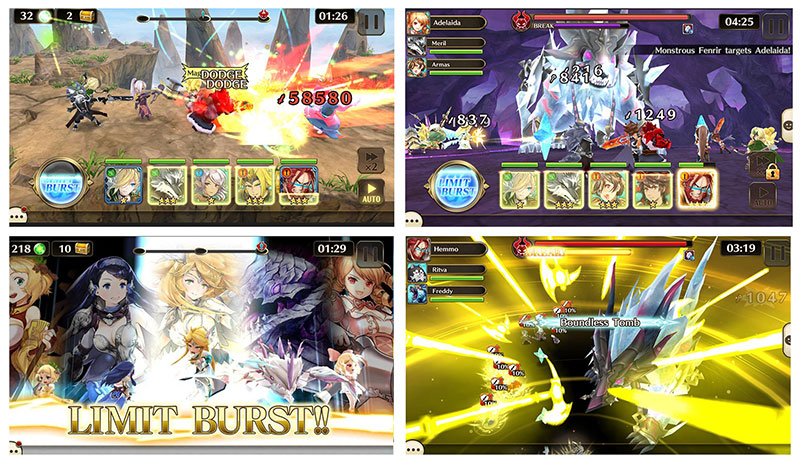 [App Details]
Title: Valkyrie Connect
Supported operating systems and devices: iOS 8.0 or later recommended, devices that come with Android™ 4.2 or later (excluding some devices)
Price: Free to play (in-app purchases available)
iTunes App Store: https://itunes.apple.com/us/app/valkyrie-connect/id1078813307&mt=8
Google Play: https://play.google.com/store/apps/details?id=jp.co.atm.vcon.ww
Official Valkyrie Connect Website: http://app.a-tm.co.jp/valkyrie-connect/en/
Facebook Page: https://www.facebook.com/valkyrieconnect.ateam/
*Campaign details may be changed at any time without prior notice.
*All company and product names herein are trademarks or registered trademarks of their respective owners.
*Images contained herein are for illustrative purposes and may vary from the final product.

[CONTACT ATEAM ABOUT THIS NOTICE]
Kensuke Shibata
Manager, Marketing Group
Ateam Inc.
TEL: +81-52-747-5564
FAX: +81-52-747-5560
Mail: press@a-tm.co.jp
URL: http://www.a-tm.co.jp/en/