1sec Inc., a company focuses on fabricating projects in virtual and reality space is proud to present Japan's first male virtual influencer, "Liam Nikuro". "Liam Nikuro" is created by "1sec Inc.", a venture company planning and developing virtual human. Liam is powered by computer processing, 3DCG technology that are used to project virtual three-dimensional objects onto flat surfaces, creating images with a sense of depth. The use of this technology is becoming increasingly common in media such as live-action and animated films as well as video games.
Liam Nikuro Instagram: https://www.instagram.com/liam_nikuro/

Liam Nikuro is a virtual character who was created by superimposing an all-CG head made with the use of 3D tools on a body filmed in live action. He is now set to work in the fields of music, fashion, and entertainment, where he will be involved in the production of a wide range of content as a multimedia producer. He will also be at the center of efforts aimed at producing innovative creative content in combination with AI (artificial intelligence) technology.
"Liam may be virtual, but we are aiming to create content that is just as fascinating and cool as what his real counterparts have to offer, and to entertain people all over the planet." said Genie, producer of the Liam Nikuro project.  "We are working on a variety of projects that we intend to bring to the world in the near future."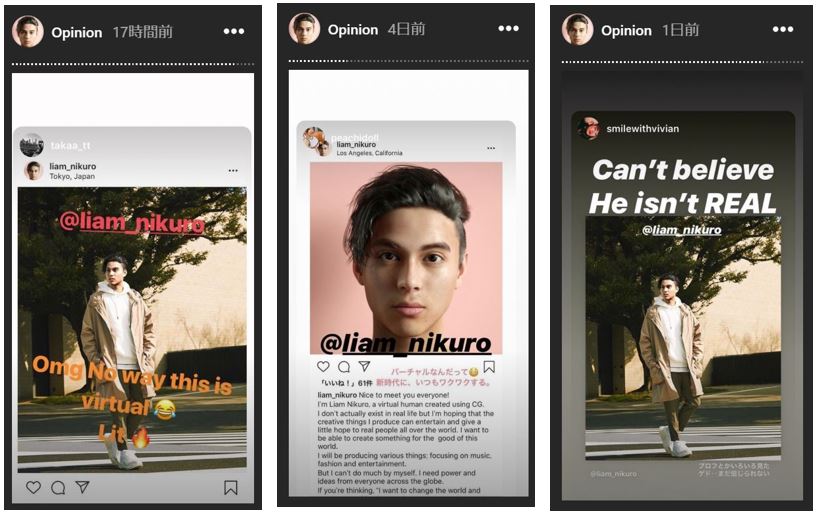 For the latest posts from Liam Nikuro, please see his official Instagram feed. Images from his Instagram may be used for media coverage.
Liam Nikuro Twitter: https://twitter.com/liam_nikuro/status/1113294574082875403?s=21
ABOUT Liam Nikuro
Name:
Liam Nikuro
Occupation:
Producer (Fashion, music, entertainment)
Place of birth:
United State of America — Los Angeles (to a Japanese mother and American father)
Height/Weight:
180cm / 72kg
Q&A
Q: What kind of fashion do you like?
Recently, I like "street feeling" style. For example, OFF WHITE and HERON PRESTON but BURBERRY after Ricardo Tissi is also cool, and I like wearing John Ellio K's sweater on my day off too. There are too many clothes that I like, and I don't have enough bodies to wear them all! By the way, I want to try some clothes like Doublet edge in Japan. Can anyone do the styling for me?
Q: Who is your favorite artist?
Bruno Mars, Justin Bieber, Drake, Kendrick Lamar, The Notorious B.I.G., and 2pac.
Q: You like cosmetics?
Cosmetics for men are nice. I want to try THREE FIVEISM's concealer when I'm worried about my freckles, but I don't really have a chance to try it because I don't have any makeup artist comes with my shooting. For Cosmetics, I think Japanese manufacturers are the best.
Q.What's your favorite food?
I like the fried sweet potato wedges at the hamburger joint called The Golden State in LA. Oh and the ramen in Ippudo is good too!
Q.I heard you like movies?
I dived into the creative world because I watched a movie called STUDIO 54. STUDIO 54 was a legendary disco in Manhattan, expressing the desires and crazy world of Mick Jagger, Michael Jackson, Andy Warhol, and incalculable 70s celebrities. At the end, there was a line saying, "Party is over, Lebel was dreaming," which sort of connects to me as I feel my existence is dream like as well.
Q.Are you interested in art?
I like Basquiat , Takashi Murakami and I like MAD SAKI's art too! I knew them from the decoration in the cafe which I go often, called Stall in Nakameguro. Paints were hanging from the eyes of Picasso's Geronica's homage and Mona Lisa, they were crying, but the art was really impressive.
Q.You have any future plans?
I wish the work I created can entertain and give hope to people, I hope it helps even just a small part of the world. I'm now preparing content that surprises the world! Stay tuned!
About 1sec Inc.
1sec is a startup focused on projects that blend the real with the virtual. Its slogan is "Creating new culture for the world in one second." The company has offices in Tokyo and Los Angeles.
Website: http://1sec.world
Media Contact
1sec Inc.
Grace Kwak