Megumin's special move is available!
Tokyo, Japan, ASOBIMO Inc. (Location: Tokyo, Japan President: Katsunori Kondo) has decided to begin a collaboration of Free-to-Play MMORPG: "Toram Online" and TV animation: "Konosuba: God's Blessing on this Wonderful World! 2" from April 1st, 2018. The app is free to download on Google Play and AppStore.
The collaboration is divided into volume 1 and volume 2, and limited avatars are released each time. For volume 1, avatars of "Kazuma", "Aqua", "Megumin" and "Darkness" will be out and their cuteness is represented in detail. You may be able to see "something" that Kazuma steals in the main story.
Also, as a collaboration skill for volume 1, Megumin's special move is available!  While you are equipping the character's avatar, you can use the strong collaboration skill.  Megumin's "Explosion" will consume all your MP and cause you to faint, just as it does to the original Megumin. Please look forward to the avatars and collaboration skill for volume 2.
Moreover, Login Bonus Gifts and Retweet Campaign are available and this is a great chance to get gorgeous in-game items.
【Collaboration Period】4/1/2018 12:00 A.M. – 4/26/2018 (JST/GMT+9)
【URL】https://en.toram.jp/information/detail/?information_id=3249
■Collaboration Avatars&Skills!
<Collaboration Skill Vol. 1>
"Explosion"
Available when equipping "Megumin's Garb (T)", "Megumin's Garb (B)", "Witch Hat&Eyepatch" or "Megumin's Hairstyle".
Effects: Use all MP and become "Stun"-ned after using the skill. However, this is a powerful magic skill that can deal damage to enemies within a wide area.
【How to Use the Skill】
Tap "Menu" -> "Settings" -> "Shortcuts" > the button to set the skill > Avatar Skills, then select the collaboration skill.
*The power of the collaboration skill is greatly boosted during the collaboration period.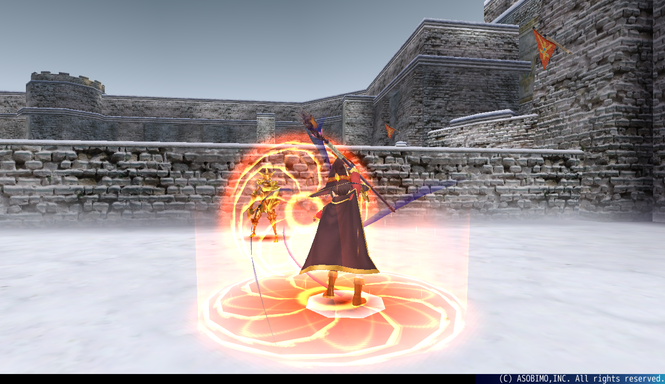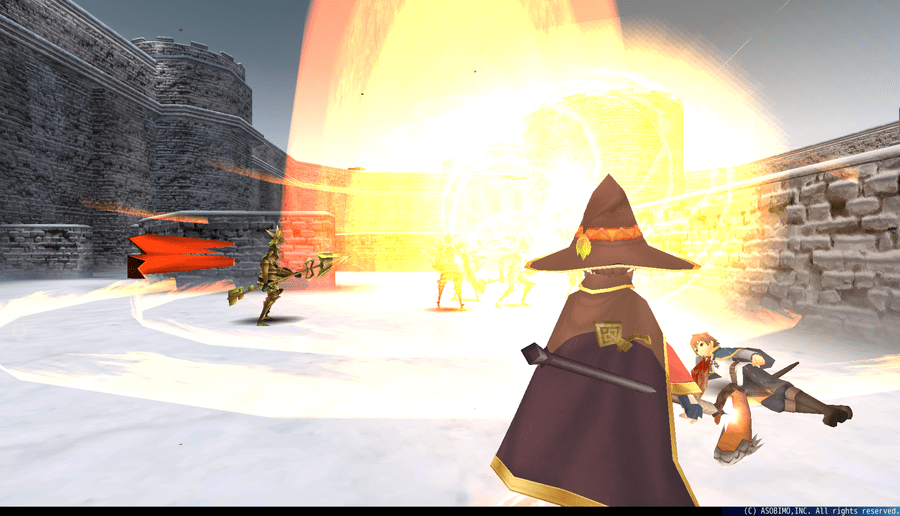 ■Collaboration Celebration! Special Login Bonus Gifts
To celebrate the collaboration, we will gift "Orb Shard x30" for the players who log in the game, and if you play more than 1 hour per day, you can get additional "Orb Shard x80".
【Login Bonus Period】4/1/2018 – 4/26/2018
■Get Gorgeous Gifts! RT Campaign
During the collaboration period, retweet the campaign tweet of "トーラムオンライン」公式広報Twitter(@toram_pr)" and we will gift gorgeous in-game items to all players according to the number of RTs.
【RT Campaign Period】 3/30/2018 – 4/9/2018
■Konosuba: God's Blessing on this Wonderful World! 2
Kazuma is a shut-in otaku gamer who runs into an unforeseen (?) incident on a rare outing.  When he comes to, what lays before him is the world after death. After being thoroughly berated by for his unfortunate demise by a bad-mouthed goddess called Aqua, he is forced to decide between going to heaven or being run down by the demon army and reincarnated into a different world with a decreasing population. Following his gamer intuition, of course he choses reincarnation in a different world! And as a privilege for going to this different world, the one "thing" he choses to bring is, "Hm, you." So this is the beginning of a different world adventure with a shut-in otaku gamer and a no-good Goddess…!?
TV Anime Official Website: http://konosuba.com/
©2017 Natsume Akatsuki・Kurone Mishima/KADOKAWA/KONOSUBA2 Partners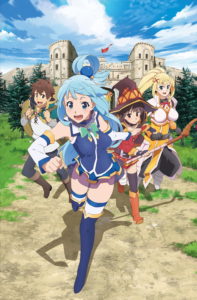 【What is Toram Online? 】
Toram Online is a FREE-to-Play full 3D MMORPG. There are no "Class Systems" in this game, so you can freely build and dress up your characters, create weapons and armors, acquire any skills you want. You, adventurers will explore the mysterious world with your friends in real time. Cooperate with your friends and defeat the fierce monsters!
【Official Website】
【Download】
GooglePlay:https://play.google.com/store/apps/details?id=com.asobimo.toramonline
AppStore:https://itunes.apple.com/us/app/rpg-toramuonrain/id988683886

【Official Social Media Links】
Twitter: https://twitter.com/toram_pr
Facebook Page: https://www.facebook.com/toram.jp
Google+: https://plus.google.com/+ToramJpOfficial/posts
Official Blog: http://blog.toram.jp/
【Game Summary】
Title: Toram Online
Genre: MMORPG
Price: Free to Play
Recommended OS: Android 4.3 or higher, iOS 7.0 or higher
Required RAM: 1GB or more
*We cannot guarantee that the app will work comfortably on Android 2.3 or higher.
*The number of players who pre-registered is the total number of the pre-registrations made in the official site and third-party sites.
ASOBIMO,Inc. will release more titles with our vision to become the "No.1 online RPG company in Japan", so don't miss it, keep in touch with us!
【Contact】
ASOBIMO,Inc. PR staff
publicity@asobimo.com
ASOBIMO Inc.
http://asobimo.com/
3-1-2 Ikebukuro, Toshima-ku, Tokyo, 171-0014, JAPAN
Corporate Website: https://asobimo.com/
Official Live Channel: https://bemmo.asobimo.com/