Ateam Inc. (headquarters: Nagoya, Japan; president: Takao Hayashi; hereafter "Ateam") has teamed up with popular Japanese anime TV series "Puella Magi Madoka Magica" (hereafter Madoka Magica) to bring exciting new content for a collaboration event starting August 3, 2017 in their iOS/Android™ real-time action RPG Unison League, which has achieved more than 7.5 million downloads globally (excluding some countries).
▼Collaboration-Exclusive UR Kyubey for All Players!
Schedule: 8/3 (Thu.) 5:00 a.m. – 8/17 (Thu.) 1:59 a.m. Unison Time, 2017
All players that log in between the above period will obtain UR Kyubey. Kyubey is exclusive to this collaboration, so
don't miss the chance to claim yours!
*Only one Kyubey can be claimed per player from this giveaway.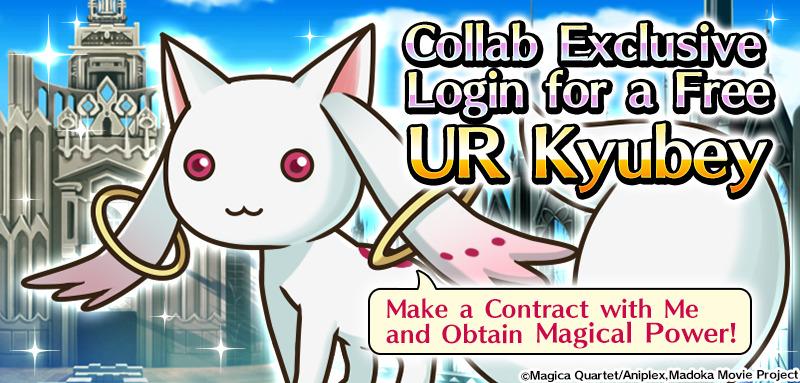 ▼Exclusive "The Witch Is Here" and "Find the Magical Ribbon" Quests Available! Gather Magical Ribbons to Obtain Exclusive Gear!
Schedule: 8/3 (Thu.) 5:00 a.m. – 8/17 (Thu.) 1:59 a.m. Unison Time, 2017
Collaboration-exclusive "The Witch Is Here" and "Find the Magical Ribbon" Quests have begun. Navigate your way through these Quests for a chance to obtain Magical Ribbons that can be used to perform Box Spawns.
Collaboration Quest (1) "The Witch Is Here"
Protect Madoka as you fight to defeat the "Sweets Witch". Clear these Quests to obtain Magical Ribbons and points.
Collaboration Quest (2) "Find the Magical Ribbon"
In these Quests, your goal is to defeat "Kyubey". Magical Ribbons and points can be obtained more efficiently in these Quests, so make the most of these for a chance to get exclusive Gear!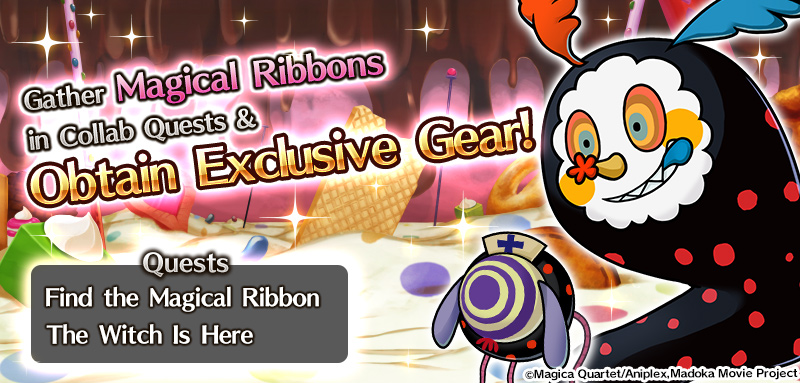 ▼United Offense: Stage Witch Quests Under Way!
Schedule: 8/10 (Thu.) 5:00 a.m. – 8/17 (Thu.) 1:59 a.m. Unison Time, 2017
Limited-time-only United Offense: Stage Witch Quests will be made available during the above period. In these Quests, up to 9 players can come together to take on the formidable "Stage Witch" boss.
These Quests also award more points and Magical Ribbons than "The Witch Is Here" quests, so make sure to squeeze every last Ribbon and point out of them as you can! Work together with comrades and friends and show the fearsome Stage Witch you mean business!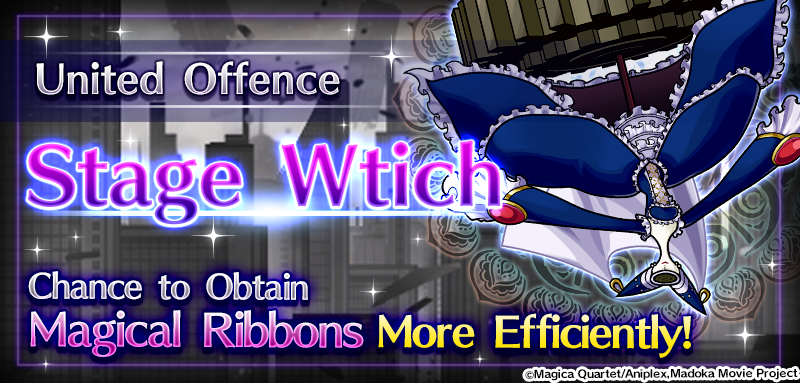 ▼Obtain Ranking Reward UR Ultimate Madoka and Collaboration-Exclusive Cosmetic Gear!
Schedule: 8/3 (Thu.) 5:00 a.m. – 8/17 (Thu.) 1:59 a.m. Unison Time, 2017
Score a top rank in the collaboration to obtain UR Ultimate Madoka from first-half rankings and [UL] Homura Akemi (Final Ver.) from the second-half rankings. Ultimate Madoka's Bow, Madoka's Uniform, and other cool cosmetic Gear can be obtained from Box Spawns, so take on those Quests and reap tons of rewards!
<Ranking Rewards>
Rank 1 – 500 (First Half) – UR Ultimate Madoka
Rank 1 – 500 (Second Half) – [UL] Homura Akemi
*The above is just one part of the ranking rewards.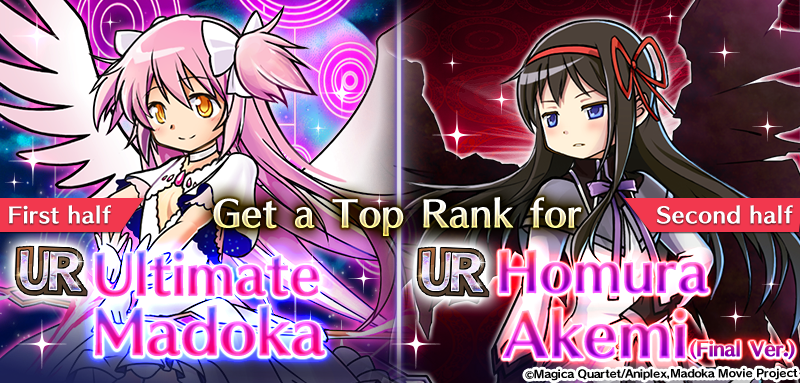 ▼FREE Collaboration Spawn Once a Day! One Collaboration UR Guaranteed Spawn Also Available!
Schedule: 8/3 (Thu.) 5:00 a.m. – 8/17 (Thu.) 1:59 a.m. Unison Time, 2017
Collaboration Spawns that feature popular characters "Madoka Kaname", "Homura Akemi", "Sayaka Miki", "Mami Tomoe", and "Kyoko Sakura" are now available. A Collaboration Spawn that can be performed FREE once a day, and a one-time-only Spawn that guarantees one UR collaboration Gear piece are now open. Tons of Weapons and DEF Gear from Madoka Magica are featured in these Spawns, so don't miss this opportunity to dress up as your favorite character!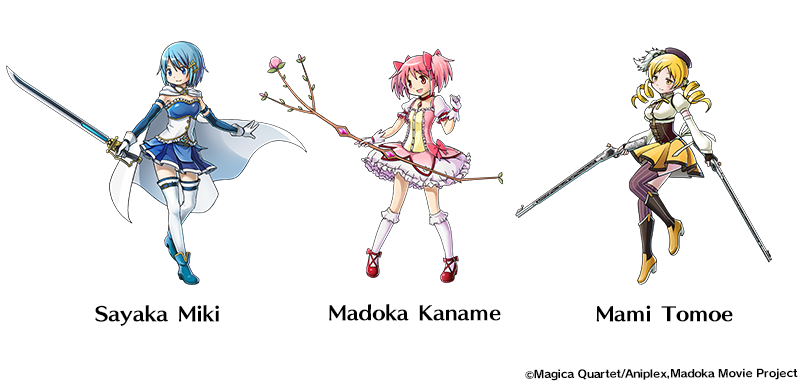 ■About Unison League
Unison League is Ateam's hit smartphone RPG which originally launched in Japan on December 4, 2014 before seeing an English release several months later. In the game, players cooperate with their friends to unleash powerful special attacks and take part in heated real-time battles to earn new weapons and equipment to gear up their characters. The cool, stylish characters and world setting add depth and flair to the title.
Collaboration Site: http://app.a-tm.co.jp/unisonleague/en/
[APP DETAILS]
Title: Unison League
Supported devices:
iPhone 4s or later, iOS 6.0 or higher recommended
Devices that come standard with Android™ 4.0 or later (excluding some devices)
Price:
Free to play (in-app purchases available)
iTunes App Store: https://itunes.apple.com/us/app/unison-league/id968953976
Google Play: https://play.google.com/store/apps/details?id=en.co.atm.unison
Amazon App Store: http://www.amazon.com/gp/mas/dl/android?asin=B0169VW5WY
Official Unison League Website: http://app.a-tm.co.jp/unisonleague/en/
Facebook Page: https://www.facebook.com/unisonleague.ateam
Opening Movie: https://www.youtube.com/watch?v=7I4hEIPblVo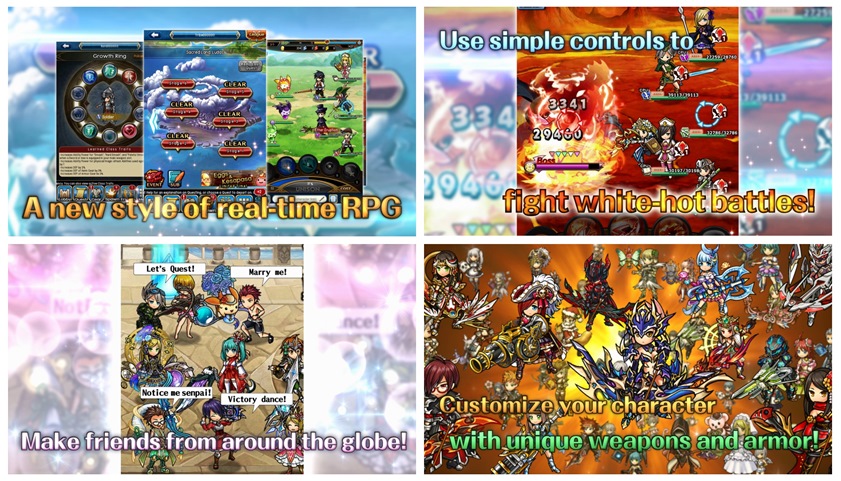 *Collaboration details may be changed at any time without prior notification.
*All company and product names herein are trademarks or registered trademarks of their respective owners.
*Images contained herein are for illustrative purposes and may vary from the final product.
About the Company:
Ateam Inc. develops and operates high-quality smartphone games and tool applications for distribution around the globe. Its top hit titles are "Dark Summoner", "War of Legions", and "Unison League".
"Dark Summoner" is a dark fantasy-themed RPG that was released on February 2012 and reached the number 1 top grossing rank on the North American Google Play store.
Fantasy RPG "War of Legions" was released in August 2013 and brought real-time global Guild Battles to the card battle game genre for the first time ever. It has achieved over 2 million downloads to date.
"Unison League" was released in May 2015 and allows players to fully customize their characters with countless appearance customization options, then duke it out in guild battles or chat with fellow players from around the globe. The game has been a success in various countries internationally, reaching #54 in the United States iTunes App Store top grossing ranks.


[CONTACT ATEAM ABOUT THIS NOTICE] Kensuke Shibata
Manager, Marketing Group
Ateam Inc.
TEL: +81-52-747-5564
FAX: +81-52-747-5560
Mail: press@a-tm.co.jp
URL: http://www.a-tm.co.jp/en/