Gourmet Innovation Co., Ltd., (Headquarters: Shibuya-ku, Tokyo, CEO: Takuma Inoue) the operator of Japan's largest ramen e-commerce website, takumen.com (https://www.takumen.com/), has announced the results of its "Really Delicious Ramen Shop" ranking survey. The survey included responses from 3,462 famous ramen shop owners, and the results were presented as the JAPAN BEST RAMEN AWARDS 2022.
The JAPAN BEST RAMEN AWARDS is an esteemed award that recognizes the top ramen shops across Japan. The survey, now on its second edition, polls famous ramen shop owners to inquire about their selections for "truly delicious ramen shops" and then presents the results in a ranking format. This year's survey saw a participation of 3,462 ramen shop owners, with valid responses received from 790 of them, leading to the ranking. The award ceremony took place on December 13th, 2022 at the Akasaka Garden City in Tokyo, marking the second consecutive year the event was held in the city.
Results of the JAPAN BEST RAMEN AWARDS 2022
1st Place
– Ramen Iida Shoten (Yugawara, Kanagawa)
In just one bite, the depth of flavor in the soy sauce, the clear and transparent aroma of chicken oil, and the ultimate blend of high-quality chicken and pork broth all come together to create a truly supreme bowl of ramen, it is considered as Japan's pinnacle achievement in the culinary field. The reclusive and passionate ramen master, Shota Iida, is at the forefront of the Japanese ramen industry and truly leading the way in terms of taste and quality.
Address: 2-12-14 Doi, Yugawara-machi, Ashigarashimo-gun, Kanagawa
2nd place
– Chuka-soba Tomita (Matsudo, Chiba)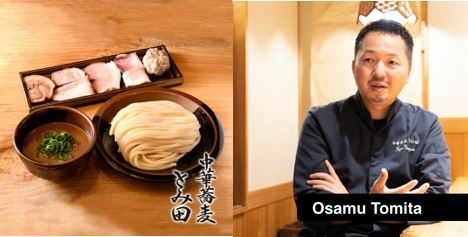 The Matsudo main store, a renowned shop known for its fish, shellfish, and pork bone W soup with noodle, serves an outstanding bowl of ramen by featuring the outstanding characteristics of the pig "TOKYO-X". The shop brings out the sweetness of the fat to the extreme in the pork bone soup and the special soup, which delicately adds fish and shellfish broth, is a masterpiece that can only be tasted at the main store. The refined taste that continues to evolve and deepen is often referred to as the best in Japan.
Address: Takahashi Bldg. 1F, 1339 Matsudo, Matsudo-shi, Chiba
3rd place
– Iekei-sohonzan Ramen Yoshimuraya (Yokohama, Kanagawa)
The dish, developed in 1974 by Chairman Minoru Yoshimura, features a rich and hearty soup base made of pork and chicken broth, with a special soy sauce blend and thick, chewy noodles. This dish became the precursor to the "family-style" ramen that can now be found throughout the country. The dish has been a pioneering flavor that draws in an average of 1,500 people per day since its opening, is truly one of the culinary treasures of Japan. With over 300 direct and indirect apprentices, this dish influenced many shops around the country and is considered a significant achievement in Japan's culinary history.
Address: 2-12-6 Minamisaiwai Nishi-ku, Yokohama-shi, Kanagawa
4th place
– Motenashi Kuroki (Asakusabashi, Tokyo)
The highly-popular restaurant, with a long history of awards and recognition from reputable sources such as the "Michelin Guide," "Ramen Walker Tokyo," and "Tabelog's 100 best shops," has a strong reputation. The Master Naohito Kuroki, who has honed his skills in Japanese and Italian cuisine, carefully crafts his ramen using only natural ingredients and homemade broth, while using only domestically grown wheat for his noodles. His unwavering commitment to quality and excellence continues to impress diners and culinary experts alike. With his unique blend of culinary background and his dedication to quality, Master Kuroki's ramen is a true testament to the best of Japanese cuisine.
Address: Yonren Bldg. No. 3 1F, 2-15 Kanda Izumi-cho, Chiyoda-ku, Tokyo
5th place
– Ramenya Toy Box (Minowabashi, Tokyo)
The ultimate bowl of ramen, finished with 100% chicken-based clear broth, has captivated ramen fans both domestically and internationally, including the prestigious Michelin Bib Gourmand. The depth of flavor created by blending four types of premium chicken broths, such as Hinai, Yamasui, and Tankai chicken, with nine different types of soy sauce, perfectly complements the domestically grown wheat blend straight noodles to create an unparalleled culinary experience. This bowl of ramen is truly a masterpiece of Japanese cuisine. It is a delicate balance of flavors and ingredients that can only be achieved by using only the best and highest-quality ingredients.
Address: 1F, 1-1-3 Higashi-nippori, Arakawa-ku, Tokyo
6th place
– Eifukucho Taishoken (Eifukucho, Tokyo)
Address: 3-5-3 Izumi, Suginami-ku, Tokyo
7th place
– Chuka-soba Shibata (Sengawa, Tokyo)
Address: 2-25-20 Wakaba-cho, Chofu-shi, Tokyo
8th place
– Chuka-soba Benten (Narimasu, Tokyo)
Address:3-25-2 Asahicho, Nerima-ku, Tokyo
Joint 9th place
– Ramen Tenjinshita Daiki (Nakaokachimachi, Tokyo)
Address: 2-4-4 Taito, Taito-ku, Tokyo
– Chuka-soba Ibuki (Shimura-sakaue, Tokyo)
Address: 4-58-10 Maeno-cho, Itabashi-ku, Tokyo
– Mendokoro Honda, Akihabara Branch (Akihabara, Tokyo)
Address: 1-19 Kanda Hanaoka-cho, Chiyoda-ku, Tokyo
Overview of Gourmet Innovation, Inc.
Representative Director & President: Takuma Inoue
Established: April 2010
Headquarters: WORK COURT Shibuya Shoto, 1-28-2 Shoto, Shibuya-ku, Tokyo
Corporate website: https://gourmet-innovation.co.jp/