SNK CORPORATION (Corporate HQ: Suita-city, Osaka, Japan, Company Chairman and President: Ge Zhihui) Is proud to announce the ULTIMATE EDITION of THE KING OF FIGHTERS XIV (KOF XIV) for PlayStation®4 consoles.

Includes 8 DLC Characters, 10 DLC Costumes, and 10 PS4 Home Themes! The KOF XIV ULTIMATE EDITION features a whopping 58 characters!
THE KING OF FIGHTERS (KOF) is a series of fast-paced fighting games that first launched in 1994 and soon took the world by storm. In 2016, KOF XIV took the traditional 3 on 3 team battle system and brought it into the modern era with 3D graphics. It features various game modes and systems that beginners to the franchise can appreciate, while also having multiple online features that many fighting game fans enjoy. This new ULTIMATE EDITION features the base game as well as 8 DLC Characters, 10 DLC Costumes, and 10 specially made PlayStation®4 home themes. With a max roster of 58 characters, THE KING OF FIGHTERS XIV is one of the biggest KOF games to date!
[INCLUDED CONTENT]
 ■ Base Game

■ 8 DLC CHARACTERS
ROCK HOWARD/ VANESSA/ RYUJI YAMAZAKI/ WHIP/ HEIDERN/ BLUE MARY/ OSWALD/ NAJD

■ 10 DLC COSTUMES
CLASSIC KYO/ NIGHTMARE GEESE/ CLASSIC IORI/ ATHENA ASAMIYA KOF '98/
SHUN'EI KUNG-FU SUIT/ NAKORURU KAMUIKOTAN GIRLS' SCHOOL UNIFORM/KULA SUNDRESS/
ANGEL DIABLA/ MEITENKUN PAJAMAS/ SYLVIE LITTLE RED RIDING HOOD

■ 10 SPECIAL PLAYSTATION®4 THEMES

Official Site
Trailer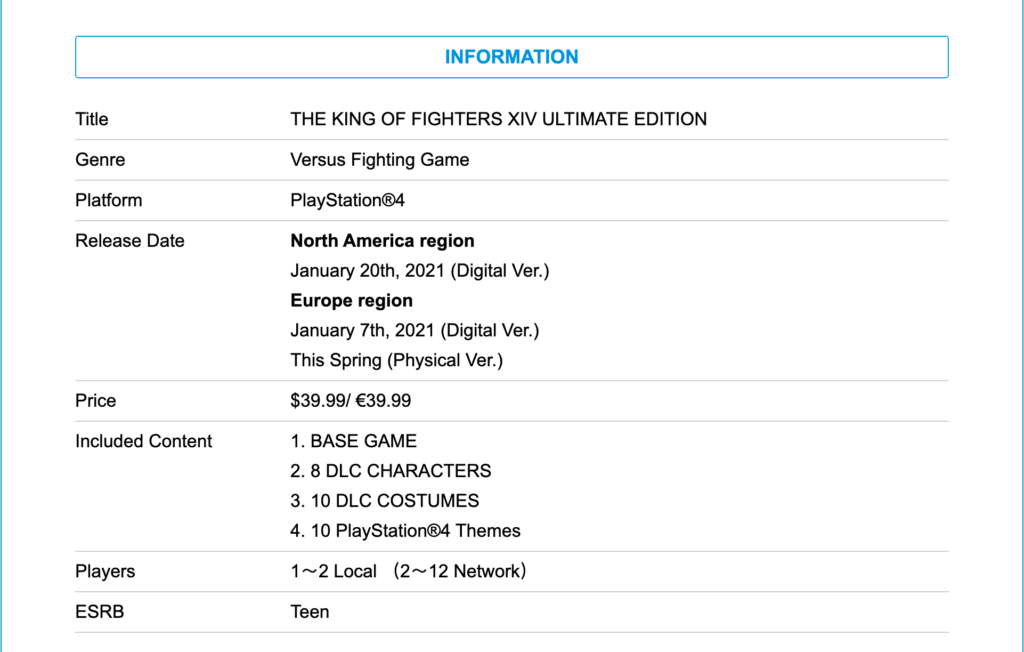 * The product codes for the PlayStation®4 themes are printed on a pamphlet and can be found inside the case for the physical version.

* Product codes will become invalid once service for the downloadable content is over.

* The console must be connected to the internet when activating the codes. Additionally, users must have an active PlayStation™ Network account.
©SNK CORPORATION ALL RIGHTS RESERVED.
※PlayStation is a trademark of Sony Interactive Entertainment Inc.