KOEI TECMO America and developer GUST Studios are excited to announce the first details to a host of enchanting new magical abilities featured in their otherworldly upcoming JRPG, FAIRY TAIL. The game is set to launch across North America on July 31, 2020 for the Nintendo Switch and PlayStation®4 computer entertainment system, and on July 30, 2020 for Windows PC via Steam®.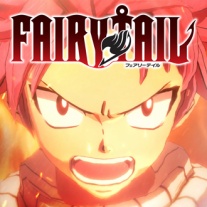 FAIRY TAIL's extraordinary world of magic and dragons is captured in remarkable detail throughout this all-new gaming experience, with a phenomenal focus of delivering the type of magic and mystique fans of the worldwide sensation anime and manga series have been craving. In FAIRY TAIL, characters can now combine in a Unison Raid to unleash their magic spells at once to overpower enemies. This Unison Raid ability originally premiered in the FAIRY TAIL anime and manga, but in the game, all new magic and character team-ups will be featured, introducing exciting new powers from never before seen character combinations.
In addition, a series of Extreme Magic Spells will also be introduced, including Kanna's Fairy Glitter which can be activated when magic attacks are combined, Makarov's Giant magic, and even a spell known as Exceed Special, which will help your party out in times of terrible trouble. Each magic spell carries unique elemental properties and affinities, with magic dealing more damage to specific opponents. Characters can then upgrade their magic spells by gaining experience points throughout their journey.
Also, by using magic attacks during battle, the party's Awakening Gauge increases. When the gauge is fully filled, characters can be Awakened, enabling them to utilize even more powerful magical abilities and with each character employing different Awakening Modes, players will be able to expand their strategies across a broad range of sorceries and enemies.
FAIRY TAIL is currently in development for the Nintendo Switch, the PlayStation®4 computer entertainment system, and Windows PC via Steam®, and is available now for pre-order through digital and select retailers.
A Digital Deluxe version of FAIRY TAIL has also been recently revealed, boasting special Grand Magic Games team costumes, a bonus Lacrima set, and a DDX Limited Ryza costume for Lucy!
Purchasing any version of the game, physically or digitally, within a limited time from launch will also unlock the Early Purchase Bonus special Miss FAIRY TAIL costume for Erza.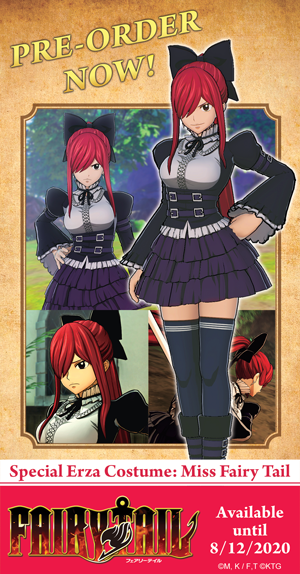 For all of the latest news on FAIRY TAIL, visit the official site at 'https://www.fairytailgame.com', like us on Facebook '@KoeiTecmoUS', and follow us on Twitter '@KoeiTecmoUS'.