Tokyo, Japan, Mar. 12, 2020 – SuperGroupies, a fashion brand offering products inspired by anime and games, has opened pre-orders for 12 new items based on Demon Slayer: Kimetsu no Yaiba.
This collection includes a watch, bag, and wallet inspired by four of the main characters; Tanjiro Kamado, Nezuko Kamado, Zenitsu Agatsuma, and Giyu Tomioka. All of the items are designed with meaningful motifs such as the details of the character's outfits, Kasugai Crows, the word "滅" (metsu) on the Demon Slayer Corps uniform, and more.
Product Information
Tanjiro Kamado model Watch
This black x green watch inspired by Tanjiro features a red second hand based on his hair and eye color. The center of the dial is designed with a Japanese traditional checkered pattern inspired by his haori and has an embossed motif of his earrings.
Nezuko Kamado model Backpack
This simple daily backpack is inspired by Nezuko. The quilting stitches on the front pocket is reminiscent of the Japanese traditional hemp leaf pattern on her kimono. A bamboo motif charm is attached to the zipper pull of the front pocket.
Zenitsu Agatsuma model Watch
This black x yellow watch is inspired by Zenitsu. The color mix is reminiscent of lightning flashes across the sky. The dial features a triangle motif inspired by his haori, while the pattern is designed in a gradient color reminiscent of his hair. Chuntaro, his companion bird, is on the dial as well.
Giyu Tomioka model Backpack
This foldover backpack is inspired by Giyu Tomioka with zip closure. The design of the front pocket is reminiscent of his haori. A silver plate on the front features his impressive advice for Tanjiro, "Don't ever give others a chance to murder you!".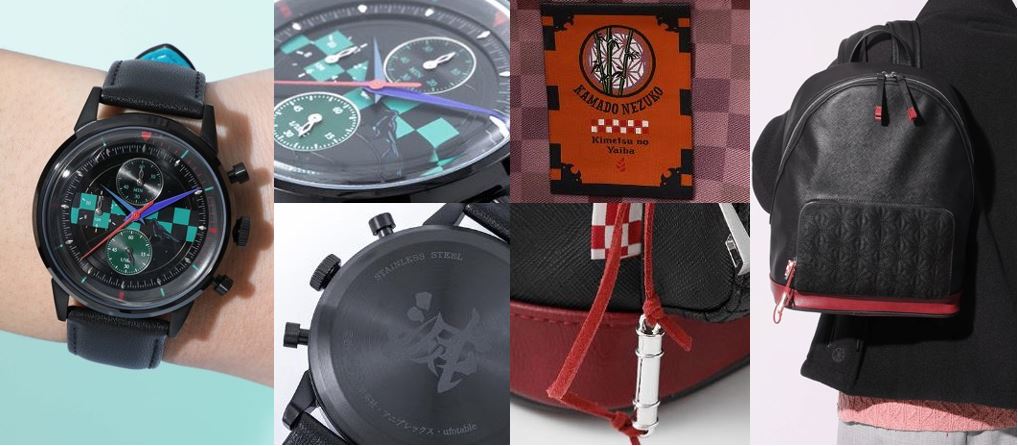 Download Product Images
https://drive.google.com/drive/folders/1EWoTxZReKPqAlIOEFWeGP4SiNCMzt1U0?usp=sharing
※You can download our product images from this URL offered by Google Drive.
※All Pictures are for reference purpose only. Actual product may vary.
Product Name :
Demon Slayer: Kimetsu no Yaiba x SuperGroupies Collection(12 items)
Tanjiro Kamado, Nezuko Kamado, Zenitsu Agatsuma, and Giyu Tomioka model
・ Watch
・Bag
・Wallet
Pre-order Period :
Available from Mar. 12 until Mar. 30 at 12:00 PM, 2020 (Japan Standard Time)

Release Month :
All items in Aug. 2020

Price :
A watch available for 17,800 yen before tax
A bag available for 14,000 yen before tax
A wallet available for 10,800 yen before tax

URL  :
https://www.super-groupies.com/feature/kimetsu_01_watch

Manufacturer :
SuperGroupies(スーパーグルーピーズ)

Copyright :
©吾峠呼世晴/集英社・アニプレックス・ufotable

# # #
About Us
"Anime into the Fashion!"
SuperGroupies is a fashion brand offering products inspired by anime and games.


# # #
For Media Inquires
Please contact s-hyein@aniware.me