Delta Electronics Japan Inc. (Minato-ku, Tokyo) developed a new Grid-connected V2B Bi-directional Charging System "V2B6A-6JC" with a 6kW charge/discharge capability that utilizes EV (electric vehicle) batteries. The V2B system features peak-cut and peak-shift of electricity in buildings as well as having them act as emergency power sources. The new system will be showcased for the very first time at the Smart Building EXPO held at Tokyo Big Sight Aomi Hall from December 11 to 13, 2019.
In addition to charge an EV, the V2B Bi-directional Charging System enables the discharge of power from the EV battery to the building and other facilities. Together with Delta Grid cloud platform, The V2B system provides functions of Remote Control and Status Monitoring, which are convenient and cost saving for administrators to do real time support and further maintenance. Additionally, the service offers remote charging and discharging using mobile app for users.
By integrating with Delta's EMS (Energy Management System) IoT Site Controller "SDGC Series" (sold separately) or existing EMS in the building, the V2B system can be controlled by the EMS, which can discharge from the EV when electricity demand in the building peaks (peak cut), or charge the EV at night when the electricity is inexpensive (peak shift)
The V2B system can also be used as public chargers such as in parking lots and commercial buildings. The system works with Delta's "EZQC Payment & Coupon Service", and to deploy a quick, simple, and easy way for end customers to pay for charging with the secure App or Credit Card and issue coupons or points back to customers. In the near future, this system provides digital vouchers or credit back to the EV owner in exchanging for the power capacity provided by the owner of the vehicle. (*Features and business model patented.)
We exhibit and demonstrate Delta's "IoT EV Charging Solution" that includes this Grid-connected V2B Bi-directional Charging System, at our booth at the Smart Building EXPO. We are looking forward to your visit.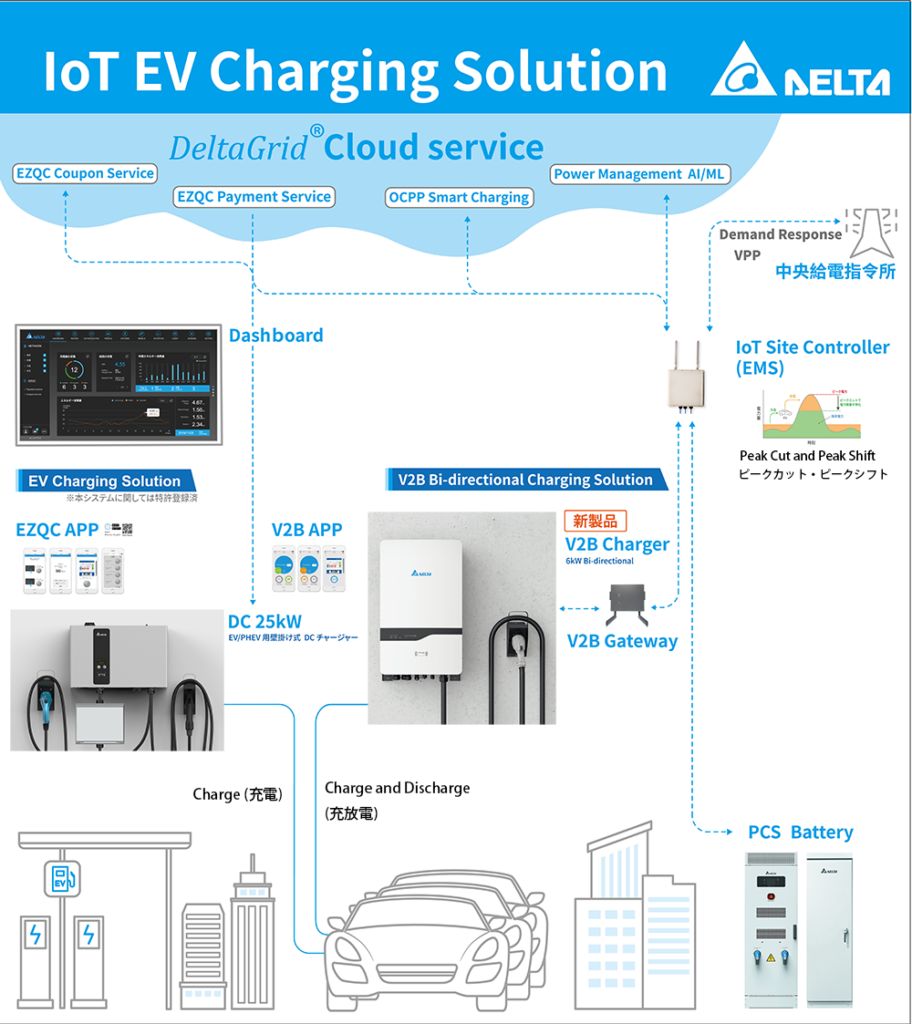 [4th Smart Building EXPO]

Date: December 11, 2016 (Wednesday) to 13 (Friday)

Site: Tokyo Big Sight Aomi Hall

Our Booth Location: 16-20
Grid-connected V2B Bi-directional Charging System "V2B6A-6JC"
[Features]

Mobile App support

After installing the "V2B Mobile App", you can start charging and discharging by tapping a few steps.

– Easy-to-operate user interface

– Remote control from outside (charging/discharging start/stop, status queries)
As a power supply source in the event of a power failure or disaster

In the event of a power failure or disaster, EV battery can be used as an emergency power source to provide electricity to critical functions such as evacuation sites and/or countermeasure centers in the building.
Power Management, Remote Control and Monitoring functions

Working together with our cloud platform "Power Management Service", enables data collection the charger and after-sales support. The platform provides remote controlling and monitoring, service operation status, fault diagnosis, etc. as a back-end service.
– Supports OCPP protocols, which are the global standards protocols for EV chargers (Version 1. 6)

– Remote Control (start/stop of charging/discharging)

– Remote Monitoring (operation status, failure diagnosis check, and status)

– Group Dashboard features for system operators and administrators

– Remote System Maintenance functions
EZQC charging services and coupons for V2B
l By integrating with EZQC service, our IoT EV charging infrastructure, enable quick operation for charging and discharging at public facilities (hospitals, municipalities, parks, etc.), parking lots, commercial facilities, etc. (payments, coupons issuance, etc.), the service will allow users to choose a variety of settlement methods (such as ApplePay, RakutenPay major credit cards) without member registration, as well as Coupon, Credit or Voucher exchange service. (*Features and business model patented.)
– Settlement services for V2B systems

– Coupon services from EZQC
Peak Cuts and Peak Shift Function

Intergrading with the Energy Management System (EMS) in buildings, the system not only operates EVs efficiently, but also contributes to cost reductions by optimizing energy efficiency in buildings, such as by discharging electricity from EVs when electricity demand in buildings peaks (peak cuts), or charging EVs at night when electricity demand is relatively low and inexpensive (peak shifts).
Lightweight and wall-mounted design for easy installation and attractive design

The weight of the main unit is reduced to 45kg, and the wall-mounted system enables installation with simple and cost effective construction. It also has clean and sophisticated design that is easy to harmonize with the exterior of the building.
Demand Response, VPP Function (Custom Compatible)

Capable of supporting to Demand Responses from the grid in conjunction with directives of utility corporation, etc. It can also accommodate VPPs (Virtual Power Plant), which aggregate the supply-demand command to balance of electricity source, in realize future de-centralized microgrid.
* Since this function depends on the specifications of each electric power corporation and etc., individual customization is necessary.
Explanation of the annotation

(*1) V2B (Vehicle to Building): Technologies and systems for mutually receiving electric power between EVs and buildings.
About the delta group
The Delta Group is one of the world's leading manufacturers of switching power supplies and cooling fans and offers a wide range of equipment and services ranging from power management, electronic components, displays, FA and networks to renewable energy solutions. It was founded in Taiwan in 1971, and is currently operating sales and manufacturing bases around the world.
Website: http://www.delta-japan.jp/
Inquiries regarding this release

Delta Electronics (Japan), Inc.

Marketing

e-mail: jpmarketing@deltaww.com
Product Inquiries

Delta Electronics (Japan), Inc.

IoT & e-Mobility Business Development Department

e-mail: jpv2x@deltaww.com
Company Information

Company name: Delta Electronics (Japan), Inc.

Representative: CH. Ko

Location: 2-1-14, Shibadaimon, Minato-ku, Tokyo

Established: June, 1991

URL: http://www.delta-japan.jp
Inquiries regarding this release
Delta Electronics (Japan), Inc.
Marketing
e-mail: jpmarketing@deltaww.com
Product Inquiries
Delta Electronics (Japan), Inc.
IoT & e-Mobility Business Development Department
e-mail: jpv2x@deltaww.com