TOKYO, JAPAN, 12/6/2019 – Yoshitaka Murayama, CEO of Cear, Inc. (headquarters: Taito-ku, Tokyo,) announced the prototype of one of the first Bluetooth speakers "pavé2" for CES 2020 that is equipped with a combination of the Qualcomm® QCC5125 Bluetooth Audio SoC and Qualcomm® CSRA6640 – incorporating a, single-chip direct digital feedback amplifier technology – implemented by Cear's latest sound stage control technology "cear Field Ver. 4.0".
In addition, pavé2 supports the Qualcomm® aptX™ Adaptive audio codec technology.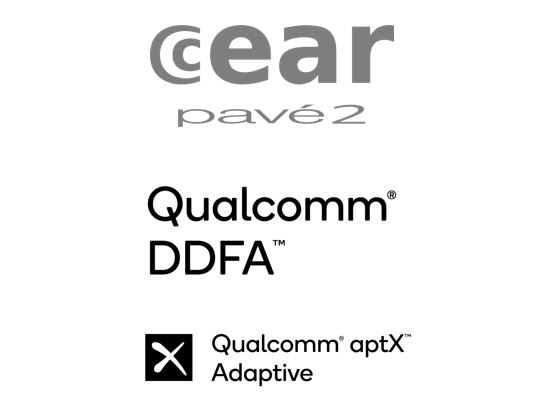 "pavé2" is the successor model of "pavé" that brought an overwhelming sense of realism and a new dimension based on the newly developed sound field control technology, cear Field ver 4.0. Cear is aiming for market introduction in 2020, introducing a new dimension of Bluetooth speaker that outperforms conventional speakers by realizing 3D sound field reproduction and a maximum 15W + 15W output.
[pavé2 image]
[main function]

– Powered by Cear Field ver 4.0 to reproduce a new dimension of sound field
– Steady connectivity, low latency and high sound quality by Qualcomm® aptX™ Adaptive audio that is optimized for high quality sound over Bluetooth, for all applications including gaming and movies.
– With direct digital feedback amplifier technology provided by the Qualcomm® CSRA6640,
– Achieves a maximum 15W + 15W output with a palm-sized compact body
[main specification]

– Dimension: 87.5 x 88 × 69 (mm)
– Bluetooth 5.0
– Supported codec: aptX™ Adaptive, AAC, SBC
– Output: 15W + 15W (max)
– 96kHz / 24bit (max)
[about Cear, Inc.]
– Established as a group company in November 2018 from Kyoei Engineering Co., Ltd.
– Utilizing their own patented technology for sound, they supply technology and software to various manufacturers in Japan and overseas.
– In addition, since 2019, they have officially participated in the Qualcomm® Extension Program where only companies recognized by Qualcomm Technologies can participate.
– Going forward, as a member of the Qualcomm Extension Program, they will promote the development of original products and applications that make full use of the latest technology from Qualcomm Technologies.
Qualcomm QCC5125, Qualcomm CSRA6640, Qualcomm aptX are products of Qualcomm Technologies, Inc. and/or its subsidiaries.
Bluetooth is the trademark or registered trademark of Bluetooth SIG, Inc.
All other names recorded here, including those of products, technologies, and companies, are trademarks or registered trademarks of their respective companies.
Other trademarks and trade names are those of their respective owners.
Media Contact : Steve Hanawa
e-mail : steve@cear.co.jp, info@cear.co.jp
URL : https://www.cear.co.jp