Using a token economy to destroy the traditional restaurant industry advertisement model and benefit both diners and restaurants
GINKAN Inc., managing company of SynchroLife, the social restaurant review service with a token economy, has opened the world's first* service allowing users to earn up to 20% of their dining bill cashback in cryptocurrency.
This official release of SynchroLife's cryptocurrency cashback system comes after a successful proof-of-concept test held at 21 restaurants in Tokyu Plaza Ginza in Tokyo, Japan in September 2018. SynchroLife has also filed a patent for this system of sending diners to restaurants (Application Number 2019-116381).
(* "World's First" as researched by our company July 1, 2019 to offer a service allowing users to pay with cash, credit, or any preferred method at a restaurant and earn a percentage of their bill cashback in cryptocurrency based on the value of the cryptocurrency at the time of their payment.)
SynchroLife is a social restaurant discovery service that utilizes blockchain technology to reward quality reviewers with cryptocurrency rewards.  SynchroLife also includes a restaurant recommendation AI which guides users to the best restaurants instantly, solving the long held problem of restaurant search being time consuming.
SynchroLife already has over 190,000 user reviews at over 100,000 restaurants. SynchroLife was originally launched as a social restaurant review service, and added cryptocurrency token rewards with the "SynchroCoin" for quality and trusted reviewers in August 2018.
Starting July 1, 2019, SynchroLife users can now also earn on average 1%~5% (set individually by restaurants, with the maximum campaign rewards being 20%) of their dining bill cashback in SynchroCoin (SYC) cryptocurrency just by dining at participating restaurants. By reading a QR code at the restaurant during payment, users will receive an amount of SynchroCoin directly in their SynchroLife in-app wallet based on the current rate of SynchroCoin.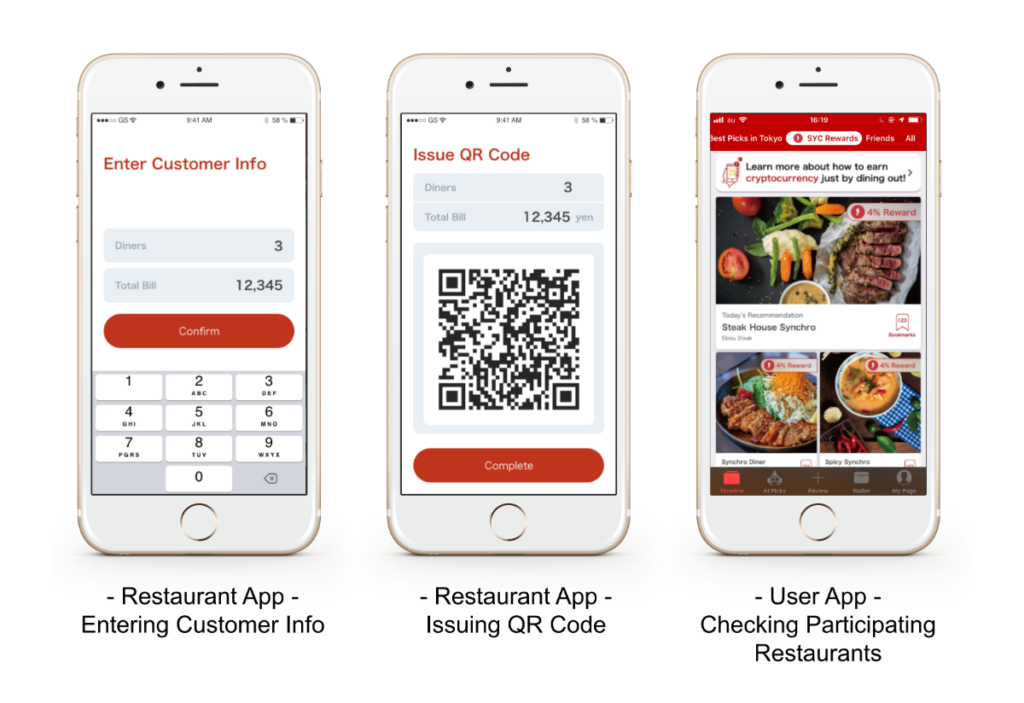 Marketing to new customers in the restaurant industry through a results based compensation model is rare. A large majority of currently existing restaurant media and review sites require restaurants to pay monthly fees for advertising which can be a big burden on restaurants. Additionally, for CRM services most restaurants struggle with needing to get diners to register for specific services.
By participating in the SynchroLife platform, restaurants can attract new customers with zero risk. SynchroLife realized that the current advertising model used in the restaurant industry is a major issue, and the new SynchroLife service is designed to disrupt the restaurant advertisement industry and create a new method of marketing for restaurants.
SynchroLife plans to register 50 restaurants around the Tokyo region of Japan during July 2019, and then to attract at least 1,000 restaurants to the platform by the end of 2019. SynchroLife plans to expand not only across Japan, but Asia as well, and aims to build a token economy where diners around the world can earn digital assets just by dining out. SynchroLife also plans to grow in the fintech industry by collaborating with various companies in the near future.


Advertising Costs Support the Value of SynchroCoin
The SynchroCoin is a blockchain based cryptocurrency token launched by the Hong Kong company SynchroLife Limited in September 2017. It is currently trading with Ethereum on LATOKEN. At the time of ICO, the price was approximately 0.0037 USD and it is now approximately 0.0074 USD (as of June 30, 2019). The SynchroCoin is a borderless digital asset that can be exchanged for Bitcoin or other local currencies around the world.
In addition to normal trading on exchanges, SynchroLife itself will also buy back SynchroCoin from exchanges to reward SynchroLife users. SynchroLife will buy back SynchroCoin using the results based compensation payments from restaurants, and the larger these payments grow the more SynchroCoin will be bought back. The more users dine out at participating restaurants, the more value the cryptocurrency will earn. In the future, SynchroCoin will also be usable for making payments, purchasing dining coupons, and use in other services.
Learn more about the SynchroCoin project at the following website:

https://synchrolife.org


SynchroCoin is Trading on LATOKEN here:

https://latoken.com/exchange/ETH-SYC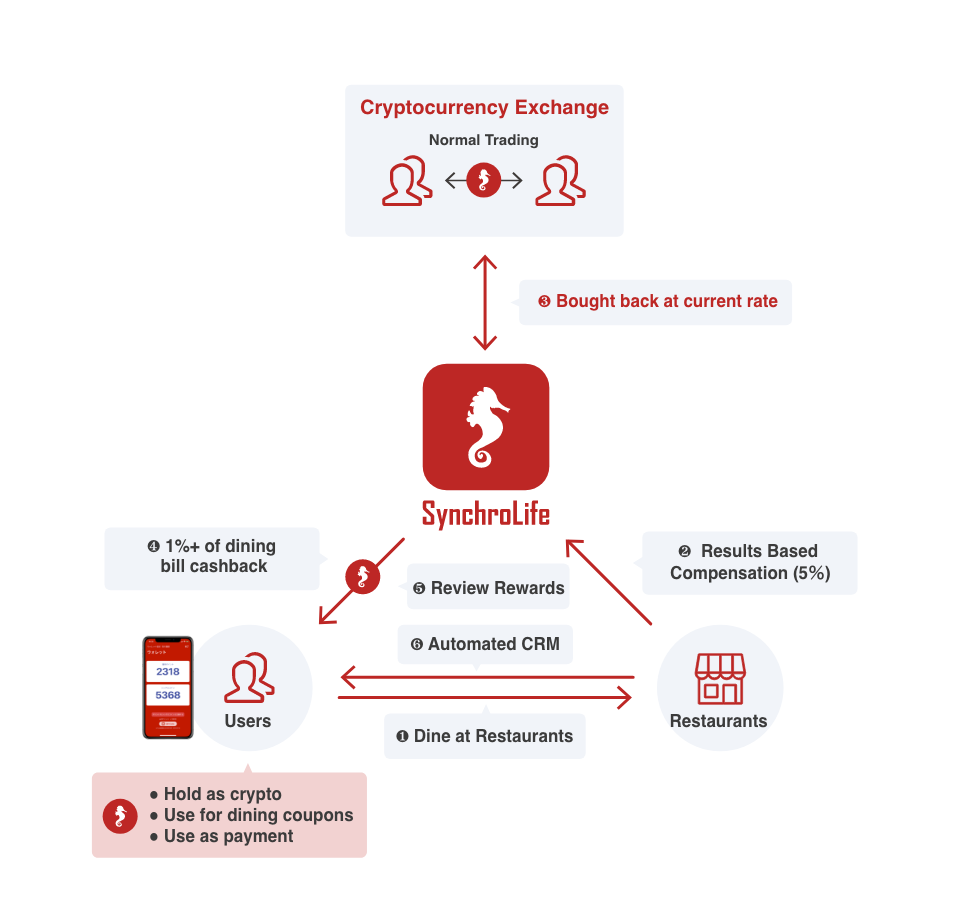 About SynchroLife
SynchroLife is the world's first social restaurant discovery service that utilizes blockchain technology to reward quality reviewers with cryptocurrency rewards. The mobile app is currently available for iOS and Android in four languages (English, Japanese, Korean, Chinese) and over 155 countries. SynchroLife rewards users with cryptocurrency for leaving quality reviews and for dining at participating restaurants, and is designed to help solve restaurant marketing problems. SynchroLife is also expanding it's business in the fintech space by aiming to build a global token economy connected to the average consumer's daily life — through food and dining out.
SynchroLife was chosen as a finalist in Mitsubishi UFJ Financial Group's MUFG Digital Accelerator Program Batch 4, and also won the fintech category of Plug and Play Japan's Batch 1 in 2018.
Learn More About SynchroLife and SynchroCoin

・ Official Website: https://synchrolife.org/

・ Medium Blog: https://medium.com/synchrocoin

・ Telegram: https://t.me/synchrocoin

・ Twitter: https://twitter.com/synchrocoin

・ Facebook: https://www.facebook.com/synchrocoin

Media Contact:
Tomochika Kamiya
Company: GINKAN, Inc.
Email: info@ginkan.jp
Telephone: 81-80-3968-2862
Website: http://ginkan.jp/index_en.html