Honda Walking Assist Device (Honda Motors Co., Ltd., Tokyo, Japan), which had received ISO 13482 certification for personal care robots from JQA (Tokyo, Japan), was certified by TÜV NORD CERT GmbH (Hanover, Germany) on 18 December 2017 as the device demonstrated compliance with the Medical Device Directive (MDD).
JQA entered into a strategic partnership agreement with TÜV NORD CERT GmbH on 23 February 2017. This agreement allows JQA to support companies in the acquisition of CE marking (EU MDD) of medical devices by utilizing the results of ISO 13482 certification.
Honda Walking Assist Device has become the first ISO 13482 certified product to be assessed and approved by TÜV NORD CERT GmbH for CE marking.
JQA has been developing approaches to the evaluation and certification of safety requirements in the field of personal care robots. It has participated in the national ISO 13482 committee and is engaged in activities to provide proposals for international standardization. It is also a member of the project for the practical use of personal care robots supported by the Ministry of Economy, Trade and Industry (METI) and implemented by the New Energy and Industrial Technology Development Organization (NEDO), as well as the project to promote the development and introduction of nursing care robots by the Japan Agency for Medical Research and Development (AMED). The present certification is regarded as a fruitful result yielded by these projects.
JQA will continue to support market access to the EU through our partnership with TÜV NORD CERT GmbH. Please feel free to contact us for further information.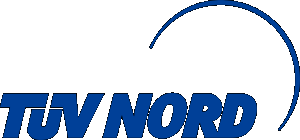 TÜV NORD CERT GmbH
TÜV NORD CERT GmbH is member of TÜV NORD GROUP, an international inspection, certification and training provider (HQ in Hanover, Germany, working with ca. 14.000 employees in over 70 countries). TÜV NORD CERT GmbH is active in all major certification areas and holds the European Notified Body status in several directives, such as Medical Devices. Beyond that, various services concerning Industrial Security. Functional Safety, Robotics, Machinery and related Management Systems are offered, worldwide.
https://www.tuv-nord.com/


Japan Quality Assurance Organization (JQA)
JQA is a not-for-profit organization specializing in registration services for ISO management systems as well as safety testing and certification for compliance to a variety of standards, both national and international. We started our operation in 1957, initially as a designated inspection body under Japan's Export Inspection Law. Our work contributed to the postwar recovery of and export-oriented Japanese economy by testing and certifying product destined for overseas markets.
http://www.jqa.jp/english/
[Contact]
Planning Dept. Public Relations Div. Japan Quality Assurance Organization
koho@jqa.jp