On Thursday, April 13th, the music video for "Shadow Kiss," the lead single for "Secret," the debut album by the nine-member boy group MeseMoa., was released.
Video URL: https://www.youtube.com/watch?v=IcwDp3c-WZg

Kissing is the theme of the video, and in addition to intensely dance moves and expressions with serious tones, which were rarely on display by the members until now, the kiss scenes between the members are the highlight.
In this video, each of the 9 members kisses each of the other members, which results in a total of 36 kiss scenes, with each of the kisses in a different pose. And the last kiss is…

Names were given to each of the kisses. Although there are cliched kisses, such as the "Kabe-Don kiss" (hand against the wall kiss), and the "hand against the wall kiss," there are also unique kisses, such as the "turnaround kiss" and the "noise canceling kiss."
The music video for "Love Cheer", a new song with cheerleading theme, was also released at the same time. Link for "Love Cheer" as below:
URL:https://www.youtube.com/watch?v=m3WIzprLJO
All kiss names
Passing by kiss
Chin holding kiss
Staring kiss
Hair kiss
Neck kiss
Nape kiss
Ankle kiss
Upper arm kiss
Aggressive kiss
Surprise kiss
Hand against the wall kiss
Cheek kiss
Turn kiss
Forehead kiss
Hair ruffling kiss
Prince kiss
Begging kiss
Gazing at each other kiss
Ear kiss
Thigh kiss
Fingertip kiss
Clavicle kiss
Feint kiss
Bird kiss
Nose kiss
Silhouette kiss
Eye covering kiss
Hugging kiss
Hand holding kiss
Exchange kiss
From behind kiss
Turn around kiss
Tip toe kiss
Noise canceling kiss
Horse riding kiss
Deep kiss
 Profile of MeseMoa
A nine-member boy group formed in 2012 from a video sharing website. "Self-alleged idols" that garnered attention through their cover dance videos by non-professional boys, now performing live shows of original songs.
In 2015, they immediately sold out their one-man live show at Nakano Sun Plaza, which was their goal.
In 2016, they vigorously carried out their activities, as they went on a tour spanning all 47 prefectures of Japan.
In January 2017, they were officially renamed from Musumen. to MeseMoa..
They consist of the following 9 members, including Aoi, who won the Judges' Special Award at the 28th JUNON SUPERBOY CONTEST and has over 100,000 followers. http://www.mesemoa.com/profile.html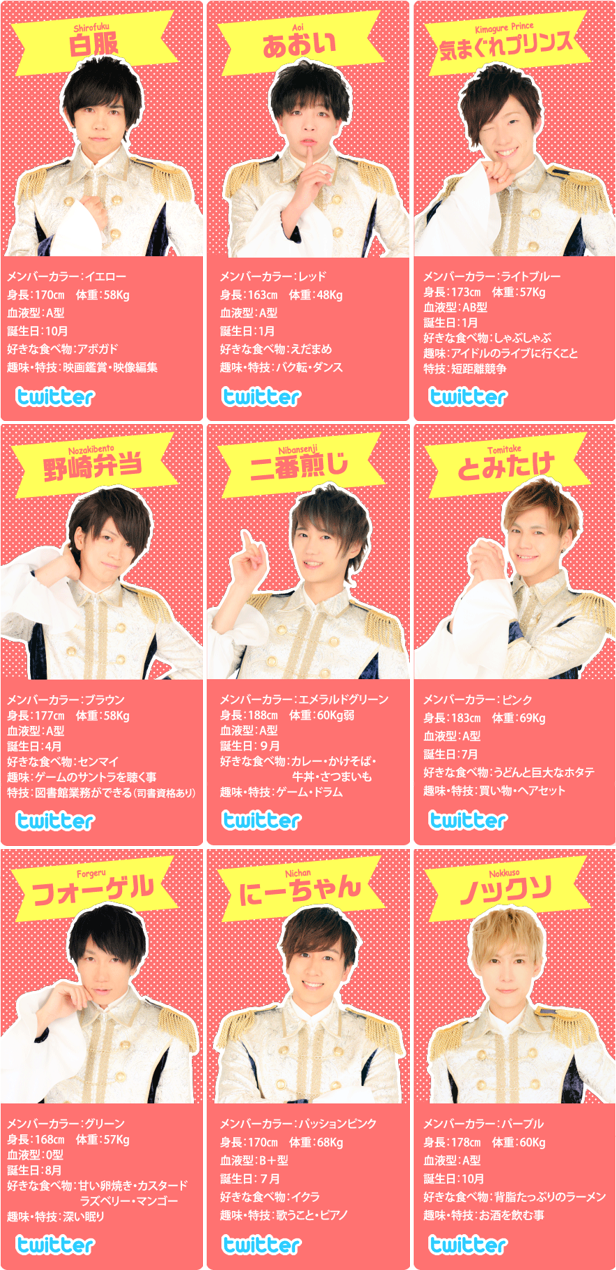 Members
Shirofuku…………………….. https://twitter.com/shirofuku_nico
Aoi…………………. https://twitter.com/nicodance_Aoi
Kimagure Prince…… https://twitter.com/kimapuriHP
Tomitake……………… https://twitter.com/tomitake723
Nibansenji……………… https://twitter.com/2ban1000ji
Nozakibento…………….. https://twitter.com/nozakix
Nokkuso………………… https://twitter.com/nokkuso
Forgeru………….. https://twitter.com/forgeru
Nichan………….. https://twitter.com/n1chan
=====
Shadow Kiss lyrics
=====
Let us go on and find the outcome of this kiss
KISS KISS KISS KISS
"I am afraid of falling in love with you,"
I murmured as I lay down by your sleeping body
I know I will feel the pain of betrayal
And tonight is one of those times
A kiss on your glossy hair
A kiss on your sweating neck
Numerous marks to hide this unrequited love
A kiss on your supple legs
A kiss on your soft arms
I will do everything you want me to
Until the morning comes
The outcome of this kiss disappears in the darkness
In a place where no one can get to it
I put my inaudible voice into your lips
And completely cover your skin with gentle kisses
The two shadows turn into one
Kiss in a shadow
Kissing you before your very eyes
Kissing you regardless of your gender
Kissing you passionately
KISS I wanna kiss you
"I am a bit late,"
I let out a sigh into your murmuring face
In the daytime I let you go,
So let me have my way with you at least at night
A kiss on your emotional eyes
A kiss on your rosy ear
Marks left to break the unforgivable times
A kiss on your delicate fingers
A kiss on your soft chest
If I will have to give it back,
Don't wake up
The outcome of this kiss is hiding in the shadow
In a place where no one can get to it
If it comes true, the world can be destroyed now
The blurry silhouettes melt together
The two shadows turn into one
Kiss in a shadow
Kissing you before your very eyes
Kissing you regardless of your gender
Kissing you passionately
KISS I wanna kiss you
Not being able to wait any longer, we get inside, entwining
Our shadows dance madly in the light of candles
I block your mouth with mine, not even letting us breathe
A scandalous love wriggling through the dark night
Even if the outcome of this kiss
Hurts somebody
Even if the outcome of this kiss
Is not happy
Let us go on and find the outcome of this kiss
In a place where no one can get to it
I will go to hell with you, if this is what you desire
And still, the sun rises
One shadow turns into two
To leave a shadow
Kissing you before your very eyes
Kissing you regardless of your gender
Kissing you passionately
KISS I wanna kiss you
=====
Contact details for inquiries regarding this article
KAYAC, the fun-loving company
PR: Yuji Takahashi, Kota Tsukahara
MAIL:promo@kayac.com TEL:045-664-3966