Tokyo (January 28, 2014) – Bridgestone Corporation announced that three new sizes of the BATTLAX HYPERSPORT S20 EVO sport radial motorcycle tire will be added on March 10, 2014. These new sizes are commonly found on 250cc and other light/middle weight motorcycles. The new sizes will be available in one front size and two rear sizes and will initially be available in Japan, with successive marketing to follow in other regions of the world.
These additional sizes feature an exclusive design which allows performance in a wide operational range – sport riding from winding roads to track days. Two technologies, high grip tread compound and small bead filler, have been adopted to address the characteristics of light/middle weight motorcycles. A high grip tread compound utilizing technologies cultivated in MotoGP racing has been adopted to offset the low contact pressure common on Light/Middle weight motorcycles (under 600cc). A smaller bead filler was adopted to allow more sidewall compliance to better conform to uneven surfaces and improve cornering stability.
The BATTLAX series is Bridgestone's premium brand of on-road motorcycle tires. Bridgestone offers a wide range of BATTLAX tires, from touring to racing and from small to large motorcycles. In addition to the BATTLAX series, Bridgestone offers an extensive lineup of motorcycle tires for most applications. Special BATTLAX racing tires are used in MotoGP – an FIM (Fédération Internationale de Motocyclisme) racing series for which Bridgestone is the official tire supplier.
1. Product name: BATTLAX HYPERSPORT S20 EVO ("H" range sizes)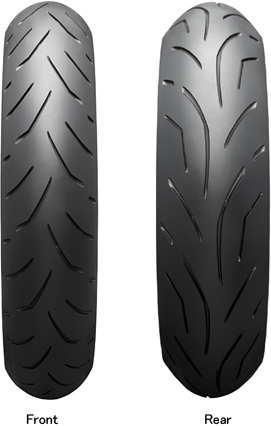 2. Size list
| | |
| --- | --- |
| Front | Rear |
| 110/70R17 M/C (54H) | 140/70R17 M/C (66H) |
| – | 150/60R17 M/C (66H) |
About Bridgestone Corporation:
Bridgestone Corporation, headquartered in Tokyo, is the world's largest tire and rubber company. In addition to tires for use in a wide variety of applications, it also manufactures a broad range of diversified products, which include industrial rubber and chemical products and sporting goods. Its products are sold in over 150 nations and territories around the world.
Original Source: Bridgestone Corporation (via noodls) / Bridgestone Commits to Middle Class…