Tokyo, August 27, 2013 — Fujitsu today announced the FUJITSU Mobile Initiative, which puts in place a structure to leverage advanced mobile technologies that assist customers and society in driving innovation. Based on this initiative, Fujitsu will launch three new services and three service upgrades. These services will only be available in Japan.
The FUJITSU Mobile Initiative is the latest of Fujitsu's ongoing efforts to leverage its vertical integration and customization capabilities to respond to the diverse mobile technology needs of customers and society. Through this initiative, Fujitsu will deliver to its customers ideal mobile solutions by putting in place a structure that encompasses the company's comprehensive lineup, ranging from mobile devices and network technologies to security and mobile communication platforms and applications, together with its mobile integration and operational services that are backed by a lengthy track record.
In recent years, mobile technology has been utilized in an increasingly wide range of business scenarios, from enabling employees to perform office work on-the-go, to enhancing sales activities and improving productivity in the workplace. Moreover, new projects are launching that employ mobile devices in fields that, until now have not fully utilized ICT, such as transportation and automobiles, health and medicine, and food and agriculture.
At the same time, a variety of operational management issues are coming to light, including the lack of application development know-how for smart devices such as smartphones and tablets, challenges in planning and setting goals as well as effectiveness for mobile device usage, the deployment of large numbers of smart devices, and security concerns.
In response to these kinds of growing customer needs for mobile technology, Fujitsu will deliver services and products – from mobile devices to applications – as well as mobile integration that offers consulting and system construction backed by the company's long track record. It will also deliver operational services that provide one-stop support across the entire product lifecycle.
The FUJITSU Mobile Initiative and New Services, Upgrades Lineup
Under the FUJITSU Mobile Initiative, Fujitsu has structured its lineup of mobile products and services to provide optimal value to customers in leveraging all of their mobile devices.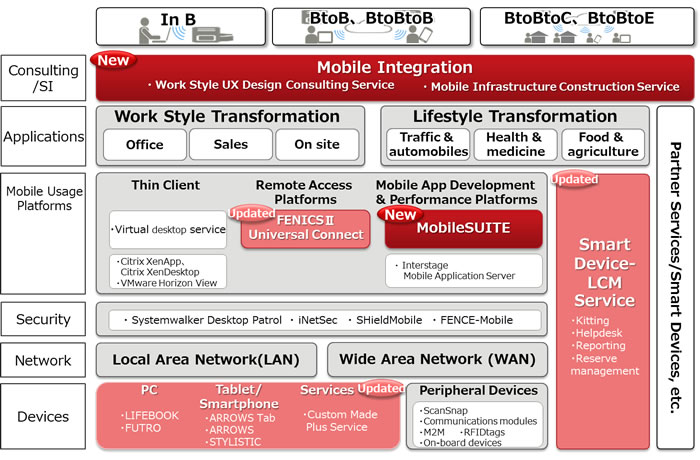 1. Mobile Integration (2 new services)
(1) FUJITSU IT Consulting Work Style UX Design Consulting Service (New service available immediately)
To address a wide range of customer needs to transform how they work, Fujitsu will comprehensively design new work styles based on the deployment of mobile devices, from concept development to the formulation of usage scenarios, calculation of pre-deployment effectiveness, and trial evaluation.
(2) FUJITSU Infrastructure System Integration Mobile Infrastructure Construction Service (New service to launch in October 2013)
To meet a wide range of mobile device needs including transforming how employees work and communicate, and enabling use of their own mobile devices for work, Fujitsu will provide infrastructure construction services using standard configuration models based on the company's know-how accumulated from 7,000 mobile-related business deals. These models can be customized, which means the company can rapidly build highly reliable mobile-enabled infrastructure to meet a variety of needs.
2. Mobile Usage Platforms (1 new product, 1 updated service)
(1) Mobile application development and performance platform: FUJITSU Cloud PaaS MobileSUITE (New service to launch in October 2013)
This is a mobile service platform that enables smart devices to connect to services and applications for a variety of businesses and tasks. As a result, customers (users of services and system administrators) can easily, securely, and quickly employ smart devices for a host of different tasks. In addition, application developers can cut down on development legwork while being able to develop added-value HTML applications.
A software development kit (SDK), various application programming interfaces (API) and an interface for linking to business systems are provided
Delivers a comprehensive range of administrative features that are crucial for deploying smart devices, such as ID/authentication management, device management, and application control
A portal feature enables central administration of multiple applications/services and single sign-on (SSO)
Application delivery capabilities allow for security without requiring developers to set up their own server(1)
A context switching function(1) is offered to change applications and content available on the device depending on the users status (time, location, etc.)
(2) Remote access platform: FUJITSU Managed Infrastructure Service FENICS II Universal Connect (Updated service to launch in October 2013)
Through FENICS II Universal Connect service, which enables a wide range of mobile devices to securely connect to a company's intranet, the updated service includes an 'Application Bridge Service' that makes it possible to securely and easily utilize business systems on a smart device.
Offers specialized applications so that data is not actually stored on devices, even personal devices used in Bring Your Own Device (BYOD) programs
Enables accurate display and navigation of conventional business systems (websites) created for PCs that are not fully compatible with smart devices, without the need for time-consuming modifications(1)
3. Device Service (Updated service)
(1) FUJITSU Custom Made Plus Service (Updated service available immediately)
This PC and tablet service is an upgraded version of the Custom Made Plus service, and offers custom-made specifications to meet the unique needs of large-lot customers. The service covers color changes and one-stop kitting with individual design, production and delivery, as well as logo marks specified by the customer and data list development. This upgraded service offers customization within the scope of the standard menu and flexibly meets the diverse needs of customers.
4. LCM Service (Updated service)
(1) FUJITSU Managed Infrastructure Service Smart Device-LCM Service (Updated service available immediately)
This is an updated version of Smart Device-LCM Service, which provides one-stop support ranging from smart device deployment to operational management. In addition to a dedicated kitting center based in Kawasaki, Japan and help desk set up to support multi-device systems and multi-carrier capable smart devices, this service deploys proprietary Android tools that raise kitting efficiency to roughly 50%. In this way, the company can flexibly provide support for tens of thousands of devices.
Sales Price and Availability
Sales Price and Availability
Service
Sales Price (Excl. tax)
Availability
Work Style UX Design Consulting Service
Individual Estimate
Immediately
System Integration Mobile Infrastructure Construction Service
Individual Estimate
October 2013
Cloud PaaS MobileSUITE
Individual Estimate
October 2013
FENICS II Universal Connect
JPY 2,200 per ID
*Per person when 1,000 people use
October 2013
Custom Made Plus Service
Individual Estimate
Immediately
Smart Device-LCM Service
Individual Estimate
Immediately
---
Glossary and Notes
1 Functions:

These functions were developed by Fujitsu Laboratories Ltd.

2 RVEC:

Remote Virtual Environment Computing is a high-speed display technology that improves performance of operation response when using the screen transfer method.
About Fujitsu
Fujitsu is the leading Japanese information and communication technology (ICT) company offering a full range of technology products, solutions and services. Approximately 170,000 Fujitsu people support customers in more than 100 countries. We use our experience and the power of ICT to shape the future of society with our customers. Fujitsu Limited (TSE: 6702) reported consolidated revenues of 4.4 trillion yen (US$47 billion) for the fiscal year ended March 31, 2013. For more information, please see http://www.fujitsu.com.
Press Contacts
Fujitsu Limited
Public and Investor Relations Division
Original Source:: Fujitsu Introduces FUJITSU Mobile Initiative to Provide Structure for Mobile…