TK NIGHTCLUB, one of the largest capacity nightclubs in Tokyo, will hold its 5th Anniversary Party! Next generation charismatic rapper ANARCHY also makes his first appearance at TKNC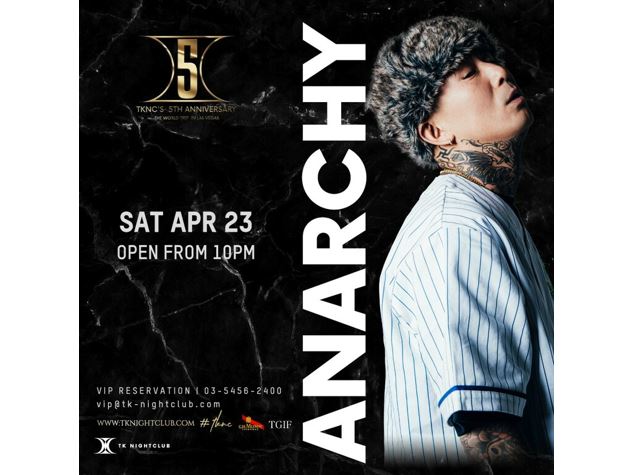 To express our gratitude for 5 years of business, we will hold an anniversary party on April 22 (Fri.) & April 23 (Sat.), 2022.
TK NIGHTCLUB, operated by Toko Entertainment Inc., to express our gratitude for 5 years of business, will hold an anniversary party on April 22 (Fri.) & April 23 (Sat.), 2022. A very famous Japanese rapper ANARCHY will also make his first appearance at TK NIGHTCLUB on the April 23rd!
This anniversary party is called "The World Trip in Las Vegas" and will feature lavish music and interior to express our gratitude for the past five years. The night scene of a casino will be recreated to an extraordinary space at TK NIGHTCLUB.
We hope you will enjoy the excitement of our 5th anniversary night with outstanding live performances.
As 2022 is our 5th anniversary year, we will continue to develop international contents so that even more multinationals can enjoy at TK NIGHTCLUB.
TK NIGHTCLUB
TK NIGHTCLUB is a luxurious, high-end adult playground that takes full advantage of its capacity, which is one of the largest in Tokyo. To provide higher quality service and space than ever before with a new lounge floor and women-only glow area. The luxurious space, reminiscent of a club scene in a foreign movie, can be used for a variety of purposes according to the customer's needs under the concept of "turning the unreal into reality". In addition to state-of-the-art production equipment, it is newly equipped with the world's leading sound system "d & b Audiotechnik," welcoming guests with a world-class spatial presentation that combines sound, image, and lighting in a trinity.
ANARCHY
Anarchy is a legend in the Japanese rap world.
He made his major debut in 2014 and has worked extensively not only as a rapper but also as an actor and film director.His songs, which embody his way of life in the face of adversity from his harsh family environment and upbringing, have captured the hearts of listeners and quickly catapulted him to stardom, making him one of the leading rappers in Japan.
TKNC's NEW SYSTEM & PRICES
Weekday
MEN: 1500yen/2D or 2500yen/all you can drink
WOMEN: 500yen/1D or 1000yen/all you can drink
Weekend
Open~24:00: MEN: 2000yen/2D WOMEN: 500yen/1D
24:00~CLOSE: MEN: 3000yen/2D WOMEN: 500yen/1D
CLUB INFORMATION
CLUB name : TK NIGHTCLUB
Location :B1F Chitose Kaikan, 13-8 Udagawa-cho, Shibuya-ku, Tokyo
Business hours: 22:00 – 04:30 *Age limit 20 years and older
TEL : 03-5456-2400
URL : https://tk-nightclub.com
COMPANY PROFILE
Company name: Toko Entertainment Co.
CEO: Kosuke Sasaki,
Location: Chitose Kaikan B1, 13-8 Udagawa-cho, Shibuya-ku, Tokyo 150-0042, Japan
Capital : 10,000,000 yen
URL : https://tk-nightclub.com