Optimizing Work in the Fashion Industry and Maximizing the Customer Experience Value
1SEC Inc. (Headquarters: Meguro, Tokyo; Founder & CEO: Hirokuni Miyaji; hereinafter referred to as "1SEC"), which bases its US operations in Los Angeles and Japan operations in Tokyo and carries out XR software development and blockchain content development and production, announces the employment of Adera, Japan's first virtual human equipped with ONE AI, the company's original AI engine that enables interactive conversations, inside the shop of Ameri VINTAGE, the popular brand operated by B STONE Co., Ltd. (Headquarters: Shibuya, Tokyo; Representative Director & CEO: Naoko Kuroishi; hereinafter referred to as "B STONE"), inside LUMINE Shinjuku 2 at Tokyo.
ONE AI, which can be found in Adera, the virtual human employed by the apparel brand Ameri VINTAGE, is an AI dialogue platform that enables face-to-face conversations by integrating physical real-time graphics with AI for functions such as speech recognition, video recognition, and specialized conversations
Through her introduction, the AI-powered virtual human Adera can chat with people, whether they are asking trivial questions related to their interests or seeking specialist advice based on fashion knowledge, until they are satisfied. As a result, optimization of the work of existing personnel becomes a possibility, as the AI-powered virtual human Adera can handle everything related to frequently asked questions and product introductions. In addition, it will become possible to aim to maximize the customer experience in the medium-term as a result of the AI gathering information about the user's body and recommending items that are flattering from a statistical perspective, along with styling that suits each individual.
Introduction Mock-Up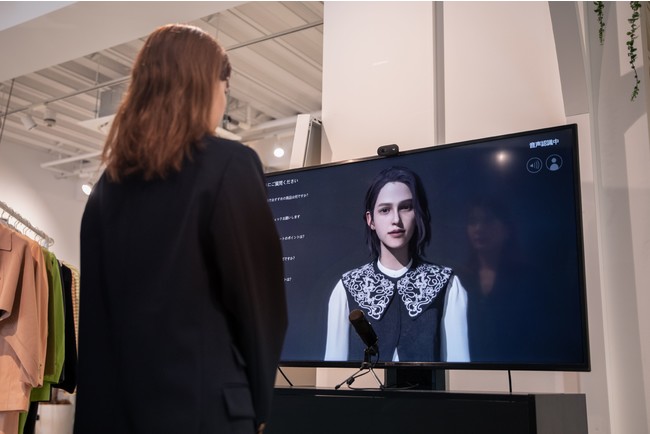 Scenes from the Demonstrative Test
About ONE AI
ONE AI is an AI dialogue platform that enables face-to-face conversations. Through its utilization, activities become possible in a wide range of fields including customer support, reception, personal assistance, instruction, service, business, entertainment, and education.
For example, precise service can be offered to customers in the fields of cosmetics and fashion through the platform learning about formal customer service methods and acquiring extensive knowledge about products, while also staying socially distant and reducing the emotional stress associated with face-to-face interactions. Interactive customer experiences become a reality. Also, in the medical field, simple online counseling diagnoses by a virtual human can be expected to overcome emotional barriers about topics that are difficult to discuss.
Comments From Ameri VINTAGE CEO, Naoko Kuroishi
<Reason for Employing Adera>
I decided to employ Adera as AMERI's virtual human as a new endeavor to encourage people to visit shops, as store traffic has slowed amid the coronavirus pandemic, while also injecting new life into the apparel industry, which is suffering due to the pandemic.
<Future Hopes for Adera>
Although existing virtual humans can only be seen on Instagram and other social networking services, I hope that Adera becomes recognized as a virtual human that people can meet and talk with if they come to our shop.
I also hope that there will be fans of Adera in the future, allowing us to bring in new clientele that had been previously uninterested in AMERI.

Adera, the AI-Powered Virtual Human
An AI-backed virtual human that was born to promote digital transformations (DX) through AI technology and make the world wonderful.
<Origin of Her Name>
A = AI
D = DX
E = EXPERIENCE
R = RAD (slang term for something wonderful)
A = ACCELERATION
(Official Instagram Account) https://www.instagram.com/ai_adera/
(Official Twitter Account) https://twitter.com/adera_AI

Ameri VINTAGE
The brand started by Naoko Kuroishi. Features styles that blend valuable vintage items from the past with the latest trends based on the concept of "NO RULES FOR FASHION."
<Corporate Overview>
Company Name: B STONE Co., Ltd.
CEO: Naoko Kuroishi
Address: 2F Hiroo Complex Bldg 5-7-35 Hiroo, Shibuya, Tokyo
Established: September 1st, 2014
Capital: 100,000,000 JPY
URL: https://amerivintage.co.jp/
1SEC Inc.
Carries out software development, with a focus on XR, and blockchain content development and production based on the slogan of "Empowering people and companies around the world." Founded the digital fashion label 1Block. The label's first endeavor was Japan's first NFT virtual sneaker, which sold out for 5 Ethereum (approximately 1,400,000 JPY) within 9 minutes of becoming available in North America, attracting attention from around the world.
<Company Overview>
Name: 1SEC Inc.
President: Hirokuni Miyaji
Address:
[US] 1541 Ocean Avenue, Santa Monica, CA, US [Japan] 6F 1-6-13 Ohashi, Meguro, Tokyo
Established: January 2019
Capital: 277,460,000 JPY