ANA HOLDINGS (ANAHD) is celebrating Space Day*1 2020 by announcing its partnership with POLA ORBIS HOLDINGS, launching a Joint Product Development Project called "CosmoSkin", to create cosmetics that can be comfortably worn in zero gravity. ANAHD will collaborate with cosmetics company POLA ORBIS group to begin the joint development of cosmetics that can be used in space, with the aim of bringing the first ever space-friendly cosmetics to market in 2023.

This partnership with POLA ORBIS group is a step in a bold new direction as we seek to bring the comfort and convenience of ANA beyond Earth and into the final frontier.

Space has long been viewed by ANAHD as a new potential market for expansion, and the decision to develop space-friendly cosmetics comes at a time when ANAHD is also exploring the possibility of future expansion into space travel, space transportation and satellite data utilization.

Both companies have a history of scientific development, and POLA ORBIS group will leverage its knowledge of skincare to conduct research into cosmetics that is suitable for use in space life while ANAHD will provide aircraft to serve as sites for demonstrations and experiments.

*1 Space Day
Every year, September 12 is "Space Day" in Japan, the day a Japanese astronaut flew to Space aboard the Space Shuttle in 1992.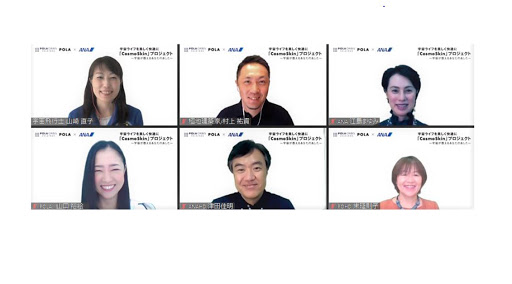 Online Press Conference of ANA HOLDINGS Partners with POLA ORBIS HOLDINGS to Develop Space-friendly Cosmetics

* Top row from the left:
– Naoko Yamazaki, Astronaut
– Yusuke Murakami, Extreme Field Architect / Founder of FIELD assistant
– Mayumi Ejima, Vice President of Marketing Communication of ANA

* Second row from the left:
– Hiroe Yamaguchi, Corporate Officer, Product Advertising Design Laboratory General Manager, Product Planning Div. of POLA
– Yoshiaki Tsuda, Vice President of Business Development of ANA HOLDINGS
– Noriko Suenobu, Corporate Officer of POLA ORBIS HOLDINGS
For further information about POLA ORBIS HOLDINGS, please refer to the link below:
https://www.po-holdings.co.jp/en/index.html