The new station building of Katase-Enoshima Station, the gateway to Enoshima and a popular tourist destination along the Odakyu Line, was completed in July 2020.

The Katase-Enoshima Station building's design is based on the Ryugujo, a palace that appears in ancient Japanese folk tales, said to be the residing place of the deity of the Sea. It has been cherished by both locals and visitors for over 90 years, since 1929.

The newly completed station building is still based on the Ryugujo but new contents have been added so that
visitors can enjoy.
Installation of a Jellyfish Tank

A large Jellyfish Tank was installed inside the station through a collaboration with the aquarium. Countless jellyfish float in the tank so you can be amazed, just as if you were under the sea while staying in the station.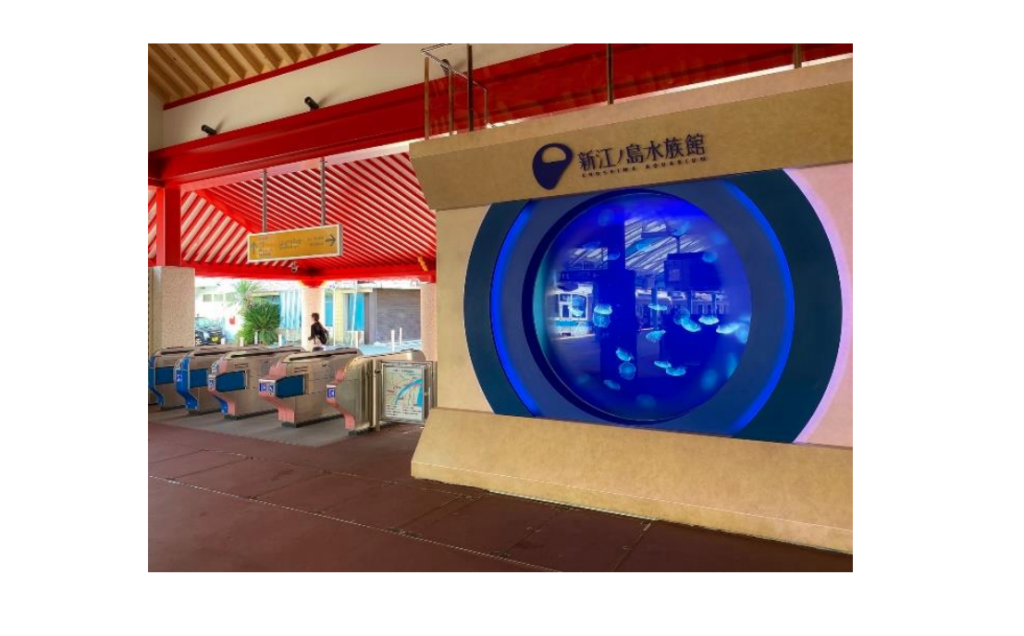 2. Roof and ceiling decoration
Statues of dragons, turtles, dolphins, etc. are installed on the roof of the station building, and a roughly 15 meter-long dragon sculpture is installed on the ceiling inside the ticket gate allowing you to see various kinds of animals.

3. Lighting up of the station building
After sunset, the station building is illuminated and you can enjoy a fantastic atmosphere. In addition, a special lighting-up will be held during events such as fireworks displays and Christmas. When visiting the Enoshima and Kamakura area, head for Katase-Enoshima Station, approximately 70 minutes from Shinjuku Station on the Odakyu Line in Tokyo.