Good-Feel Co., Ltd., (headquartered in Shinagawa-ku, Tokyo, and whose representative director is Shigeharu Umezaki; hereinafter "Good-Feel") will release the company's first original action shooting title, MONKEY BARRELS on Nintendo SwitchTM.

Furthermore, to commemorate the release, Good-Feel has unveiled today the first trailer for the game. In addition, the game is now available for pre-purchase on the Nintendo eShop for Nintendo Switch starting today.
MONKEY BARRELS First Trailer
https://youtu.be/ouCcwyUQOH4
MONKEY BARRELS is an action shooter set in a post-apocalyptic Japan, ruled by the consumer electronics giant "Crabbenwold Electro". Featuring excellent response and volume, the game offers 3D pixel art that puts a fresh spin on old-school graphics; it also offers a 22-stage exhilarating action story mode where the player can fight with a combination of 98 different weapons, and an online competition mode for up to 6 players.

The game will be available for Nintendo eShop on Thursday, November 7th, 2019 for $14.99. It is also available for pre-purchase starting today.

1. An exhilarating, hard-hitting action shooting game where you can fight with a combination of 98 different weapons!

MONKEY BARRELS is a top-down action shooting game in which players can choose 2 main weapons (such as guns) and 2 sub-weapons (hand grenades, shields, etc.) from a total of 98 different types of weapons and customize their weapon rosters depending on their skill set or tactical situations.
Each weapon is unique; first player can freely combine the weapons to fit their playing style and fight their way through the 22 hard-hitting stages. At the end of each area is a powerful, unique area boss awaits.

Features a wild eye-opener, the Wild Attack, a killer move that completely changes the battle situation!
When the attacks player made or the damage received raise the WILD gauge to a certain level, player can perform the Wild Attack. With this killer move, everyone can carry out a powerful area-of-effect attack that eliminates enemies and bullets in the surrounding area while providing buffs to player's abilities for a certain amount of time. Making strategic use of the Wild Attack is a key for achieving victory.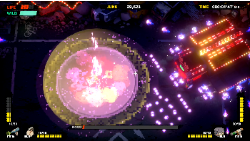 Motorcycles, tanks, and various other gimmicks!
In some stages there are vehicle gimmicks for attacking, such as a motorcycle or a tank. In these stages, such as a Shoot'em up stage where player can advance on a motorcycle and a stage that features an exciting tank battle.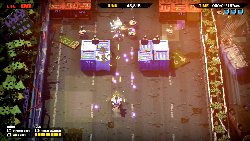 Huge, exciting boss battle awaits!
In the last stage in each area, player will find unique, powerful enemies that bring together the very best of Crabbenwold Electro's technology. These bosses are a cut above the other enemies in the game, and they bring Masaru and his friends under withering attack in many ways.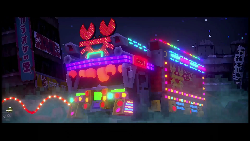 2. In this post-apocalyptic battle of the monkeys and the crabs, the hero must take on an army of robots in order to rescue his close friend, Kotetsu.
The story is set in a post-apocalyptic Japan, where an army of home-appliance robots from electronics manufacturer Crabbenwold Electro has exterminated humanity. In the destroyed cities, animals are living peacefully using the items left behind by the humans.
The hero — Masaru — and his friends are living easy, carefree lives until one day Echizen Kanida, CEO of Crabbenwold and ruler of the world, abducts Masaru's close friend, Kotetsu.
Masaru and his sidekicks decide to set off on a journey to get their friend back, and it is at this point that the "The Monkey-Crab Wars to end all wars", i.e., between the monkeys and Kanida Electro.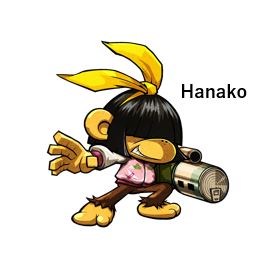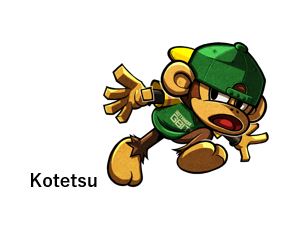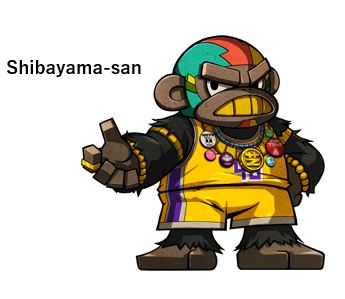 3. Monkeys against monkeys! Online competition for up to six players!

In addition to the story mode, the game also includes the Banana Scramble, an online competition mode for up to six players in which monkeys compete against other monkeys.
The rules for this mode are very simple: at the end of the three-minute competition, the monkey with the most bananas wins. Players can either pick up the bananas that are scattered around the stage or attack other players and steal their bananas. The Banana Scramble can be played using a variety of different strategies, everything from only attacking other players to only gathering the bananas that other players leave behind.
Devise your own strategy, rack up win after win, and become the king of the monkey hill!

4. Beautiful game graphics featuring 3D and pixel art.
The game's graphics apply 3D rendering to pixel art, resulting in a gaming experience that is new but has a retro feel. The graphics depict in beautiful, minute detail the scenery of a Japan in ruins, where humanity has died out.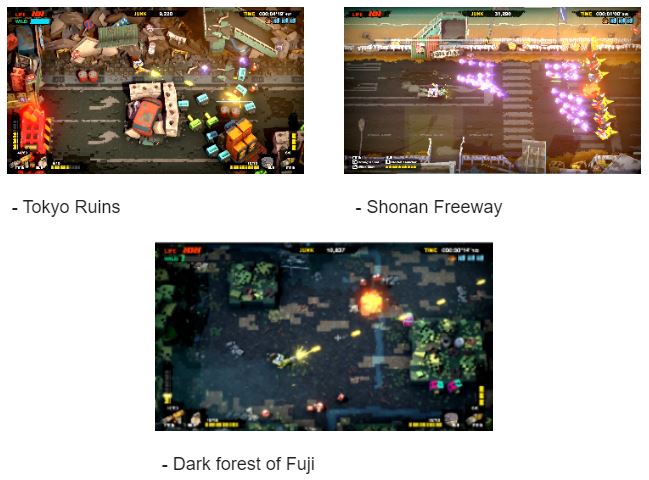 Specifications
Title: MONKEY BARRELS
Genre: Action Shooter
Models supported: Nintendo Switch (download only)
Price: $14.99 (tax included)
Release date: November 7th, 2019
Number of players: 1 player
Online competition: 4–6 players
Local communication: None
Languages supported: 11 Languages (Japanese, English, Spanish, French, Italian, German, Portuguese, Russian, Korean, Traditional Chinese, and Simplified Chinese )

Released by: Good-Feel Co., Ltd.
Official website: https://monkey-barrels.com/en
Official Twitter: https://twitter.com/monkey_barrels/
Official Instagram: https://www.instagram.com/shibayama_monkeybarrels/

Company overview
Company name: Good-Feel Co., Ltd.
Representative: Shigeharu Umezaki, representative director and president
Headquarters: TOC Bldg., 7-22-17 Nishi-Gotanda, Shinagawa-ku, Tokyo
Date of founding: October 3rd, 2005
business content: Managing and conducting the group's business; selling products of group companies

You can download all materials on this release from the link below.
https://drive.google.com/open?id=14WAsVPW4NyKawJzS_krwMQENUR0KdBMA  
For inquiries about this game or requests for download-codes, please contact:
Saito Masayuki, Marketing Office, Good-Feel Co., Ltd.
saito_masayuki@good-feel.co.jp
https://www.good-feel.co.jp/contact/company/
© 2019 Nintendo