In this summer, a variety of programs on Japanese traditional culture including zen meditation with a Kenninji Ryosokuin priest are offered by a dispersed hotel ENSO ANGO.

Ango Hotels Inc. (Kyoto, Japan: Yumiko Toeda President/CEO) is pleased to offer a stay and experience package, "GEANGO", for this summer at Kyoto's first dispersed hotel, ENSO ANGO.

More Information:
https://ensoango.com/en_news/geango/

Stay and Experience Summer Package "GEANGO" at ENSO ANGO
Zen priests stayed in one area during the summer in practice known as GEANGO. ENSO ANGO takes this zen inspiration to offer guests exclusive programs on meditation, culture and arts in Kyoto. The hotel's 5 properties function as a venue of experiencing Kyoto's cultures, history, and craftsmanship.
Guests can choose any programs (approx. 2-3 programs/day) when they check-in.
*on a first-come-first-served basis/free of charge
*additional charges incurred for the 'Kyoto Experience'.

Programs
The following are the examples of programs offered at ENSO ANGO.

Zen Meditation
Kyoto's oldest zen temple (Kenninji Ryosokuin) priest is lecturing on zen meditation at the hotel.

Talk by Kyoto Artisans
A talk by local artisans and hands-on experiences for guests at artisans' atelier.

Kyoto Experience
Full-fledged culture experiences guided by Kyoto culture masters are offered.
Traditional Kyoto confectionery 'Kyo-Wagashi' making
Japanese traditional dance lesson
Kyoto local cooking lesson
'Kyo-Yuzen' dyeing lesson
Japanese color paint workshop
Details of Package
Period: August 1 (Thurs), 2019 – September 22 (Sun), 2019
Reservation Deadline: July 18 (Thurs), 2019 – September 15 (Sun), 2019
Package Plan: Superior Twin 1 room for 2 guests / Including stay, breakfast (choice of Spanish buffet at the restaurant, La Rotonda, or Japanese breakfast at old Kyoto Machiya building), and cultural programs
Rate: 19,500 Japanese Yen/room~(including consumption tax and service charge)

Reservation
ENSO ANGO Reservation Desk
T:+81-75-585-5790
E:reservation.enso-ango@angohotels.com
URL:https://ensoango.com/en/

About ENSO ANGO
Opened on the 15th of October 2018, ENSO ANGO combines classical and modern design in five zen-inspired buildings that act functionally as one innovative hotel experience. The first dispersed hotel, in the ancient capital Kyoto, immerses travelers in the living culture of the city through activities such as zen meditation with the priest of Kenninji Temple Ryosokuin. Hotel guests can enjoy the walk between the five buildings, feeling the local culture and also the contemporary design from the interiors, artworks, furniture, lightings, interior gardens to uniforms.


ENSO ANGO LOCATION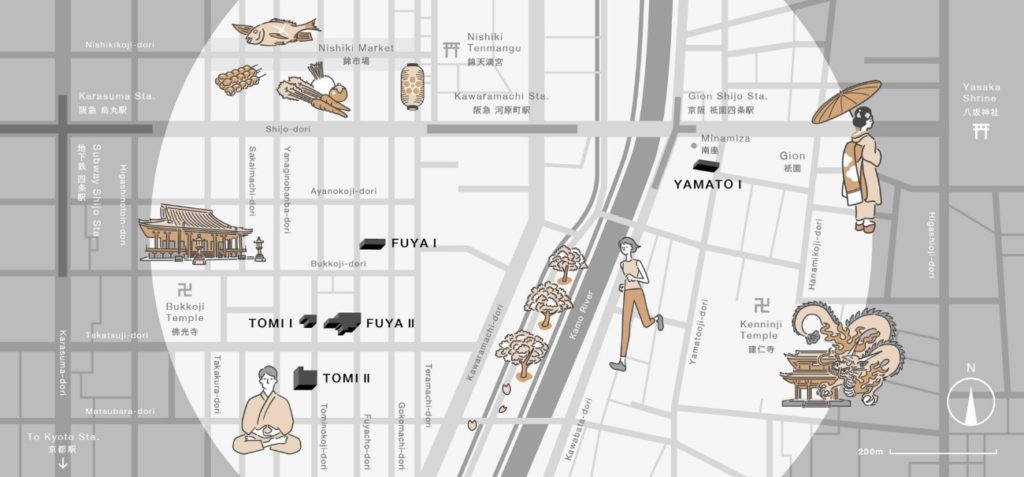 ENSO ANGO FUYA I 298 Tawarayacho, Ayanokoji-sagaru, Fuyacho-dori, Shimogyo-ku, 600-8042 Kyoto Japan
ENSO ANGO FUYA II 241-1 Nabeyacho, Takatsuji-agaru, Fuyacho-dori, Shimogyo-ku, Kyoto 600-8055 Japan
ENSO ANGO TOMI I 152 Sujiyacho, Takatsuji-agaru, Tominokoji-dori, Shimogyo-ku, Kyoto 600-8061 Japan
ENSO ANGO TOMI II 187 Ebisuyacho, Takatsuji-sagaru, Tominokoji-dori, Shimogyo-ku, Kyoto 600-8062 Japan
ENSO ANGO YAMATO I 18 Yamatocho, Shijo-sagaru, Yamatooji-dori, Higashiyama-ku, Kyoto 605-0802 Japan


Operating Company
Ango Hotels Inc.
Yumiko Toeda President/CEO
Established: September 29, 2017
Scope of Business: Hotel operation and management. Consulting services on regional development and revitalization.
Address: 680 Omandokorocho, Bukkoji-sagaru, Katasuma-dori, Shimogyo-ku, Kyoto 600-8413 Japan
URL: https://www.angohotels.com/

Press Inquiry
Ango Hotels PR
Mari Fukuda / Tomoko Fukuyasu / Yurie Asakawa
E: press@angohotels.com T: +81-75-585-5610 F: +81-75-585-5630

ENSO ANGO IMAGE and Press Kit
https://ensoango.com/en/mediadata