TOKYO, JAPAN
GINKAN, Inc. (http://ginkan.jp/index_en.html) has released a new beta version of SynchroLife (http://synchrolife.org), the world's first restaurant review and discovery platform with cryptocurrency token rewards. Amateur restaurant critics and food lovers can now earn SynchroCoin (SYC) for their restaurant reviews and photos posted in the platform. SynchroLife is building an autonomous platform with a crypto-economy and aims to be the world's first truly global restaurant discovery platform. It is currently available free for both iOS and Android smartphones worldwide in over 155 countries.
This release comes as the first milestone for the SynchroLife Project after their token crowdsale ("ICO") held in September 2017.
SynchroLife's Growth
The new version of SynchroLife builds off a successful test release in Japan with over 170,000 restaurant reviews and 420,000 restaurant photos posted to the platform. The social media aspect of the mobile app has lead to a high active user rate, with 19.68% of users posting restaurant reviews. SynchroLife's database already guides travelers visiting Japan to the best picks for local restaurants all throughout Japan.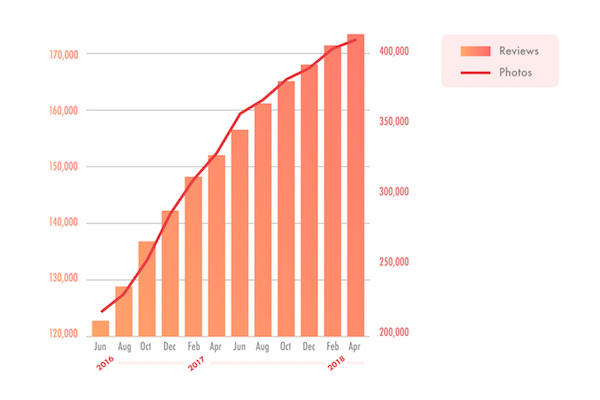 After the first Japan exclusive release, SynchroLife was released globally in July 2017 and localized into English, Korean, and Chinese. Since the global release, SynchroLife has seen users register from over 82 countries and restaurant reviews have been posted in over 48 countries. SynchroLife continues to expand globally, starting with a focus in Japan, Taiwan, Hong Kong, and South Korea, and working to build a truly global platform for food lovers around the world. The SynchroLife mobile app is available now for iOS and Android.
iPhone: https://itunes.apple.com/app/id557532449
Recommended For: iPhone 5 and up, iOS 9 and up
Android: https://play.google.com/store/apps/details?id=jp.co.synchrolife
Recommended For: Android 6.0 and up
Three Major Features of the Newly Released SynchroLife
1. Addition of a Cryptocurrency Token: SynchroCoin (SYC)
SynchroLife's original cryptocurrency token made on the Ethereum blockchain, the SynchroCoin (SYC), is used to reward users for contributing high quality and meaningful content to the SynchroLife platform. Users can earn SynchroCoin by posting original restaurant reviews and photos, providing new restaurant information or updates, adding translations, and other useful content to SynchroLife. This allows for the platform to grow autonomously anywhere in the world as users are rewarded for their contributions.
To inhibit fake reviews or fraudulent attempts to earn token rewards, the reward system calculates trust scores for each user and adjusts rewards based on the quality of the content. This prevents users from being rewarded for fake or paid reviews and allows the platform to maintain high quality review content.
2. Cryptocurrency Wallet (SynchroWallet)
SynchroLife has added a cryptocurrency wallet to the mobile app, available for all users to use. Users can manage their SynchroCoin (SYC) token rewards in the wallet, and will be able to add other cryptocurrencies such as Ethereum (ETH) in the future as well. Users will also soon be able to receive tokens as cashback rewards in their wallet for dining at participating restaurants. SynchroLife hopes the SynchroWallet can introduce many consumers to cryptocurrency and become their first cryptocurrency wallet.
3. Full Design Renewal
In addition to the new cryptocurrency wallet to allow users to receive their token rewards within the app, SynchroLife has completely renewed its design (UI/UX). The social feeds in the app have been redone to create a magazine-esque newsfeed of best new restaurant reviews and search has been optimized to help users find the best restaurant picks for their area instantly.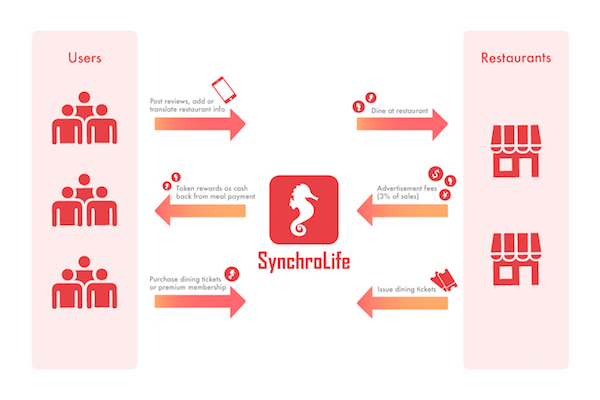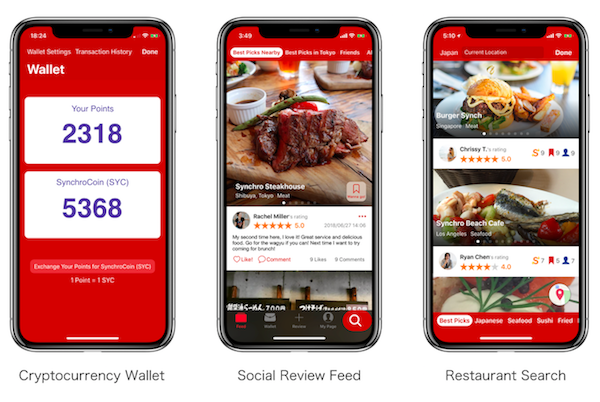 About SynchroLife
SynchroLife is a social restaurant review app where users can share their experiences dining out and earn cryptocurrency rewards. The platform analyzes users with an original algorithm to analyze their restaurant tastes and interests and help each user find the best restaurants as fast as possible. Anyone can get started today by installing the SynchroLife mobile app and posting restaurant reviews to the platform.
SynchroLife is available for free in the iOS App Store and Android Google Play store and is usable worldwide in over 155 countries and 4 languages (English, Traditional Chinese, Korean, Japanese).
SynchroLife Mobile App
iPhone: https://itunes.apple.com/app/id557532449
Android: https://play.google.com/store/apps/details?id=jp.co.synchrolife
More Information About SynchroLife
・  Official Website: https://synchrolife.org/
・  Medium Blog: https://medium.com/@synchrocoin
・  Telegram: https://t.me/synchrocoin
・  Twitter: https://twitter.com/synchrocoin
・  Facebook: https://www.facebook.com/synchrocoin
For more information regarding the content of this release, please contact:
GINKAN, Inc.
Email: info@ginkan.jp
Website: http://ginkan.jp/index_en.html
Full press release and images: https://www.dropbox.com/sh/2j3pduin8om1mvu/AAArWCw9QNp2tLcB2T5NPwAaa?dl=0