August 15, 2016
Ateam Inc.
Unison League Collaboration With Evangelion Begins!
Transform Your Character Into Shinji Ikari or Rei Ayanami,
Spawn the Iconic Evangelion Unit-01, and Unleash an Exclusive Unison Attack!
Japan-based Ateam Inc.'s (headquarters: Nagoya, Japan; President: Takao Hayashi; hereafter "Ateam") iOS/Android™ real-time action RPG Unison League, which has achieved more than 5 million downloads globally (excluding some countries), has teamed up with "Rebuild of Evangelion" and "Evangelion Racing" (hereafter "Evangelion") to bring exclusive new content to players around the world.
Gigantic Evangelion Unit-01 Dominates the Lobby!
Punish Enemies With Exclusive Gear "Spear of Longinus" and "Progressive Knife"!!
Unison League is a real-time action RPG created by the popular Japanese developer Ateam. In the game, players fight it out in fierce 10-on-10 real-time battles and unleash super powerful moves known as "Unison Attacks" that require up to five players to cooperate and activate at the same time. Players can not only choose from a myriad of weapons and armor to equip to their avatars, but they can also customize their character's appearance from over four billion possible combinations to create a truly unique character. Players who like to socialize enjoy the in-game chat feature as they can talk strategy when things get serious or talk smack when the mood is more lighthearted.
In this unique collaboration between Unison League and Evangelion, Shinji Ikari, Rei Ayanami, and other characters from
the popular series appear in Granvia, the turbulent world of Unison League. Exclusive Quests have also been added for fans to play as their favorite protagonists and take on the menacing Angels. In total there are six different limited-time components of the collaboration for players to sink their thumbs into!
▼Evangelion Collaboration Components
① Obtain Race Queen Rei Ayanami and Up to 10 Gems Just by Logging In!  
Schedule: 5:00 a.m. on 8/15 (Mon.) – 1:59 a.m. Unison Time on 9/8 (Thu), 2016
Claim Rei Ayanami in a race queen outfit the first time you log in during the above period. Also, chance to claim up to 10 Gems, so make sure to log in every day!
② Evangelion Racing Rush Quests! Complete All 16 Story Quests to Obtain Exclusive Gear!
Schedule: 5:00 a.m. on 8/15 (Mon.) – 1:59 a.m. Unison Time on 9/8 (Thu.), 2016
"Evangelion Racing Rush" Quests exclusive to this collaboration are now available. Complete these Quests for a
chance to get hair and face customization items modelled on legendary Evangelion characters. The wholly original 16-
part story will keep both Unison recruits and Evangelion enthusiasts thoroughly entertained!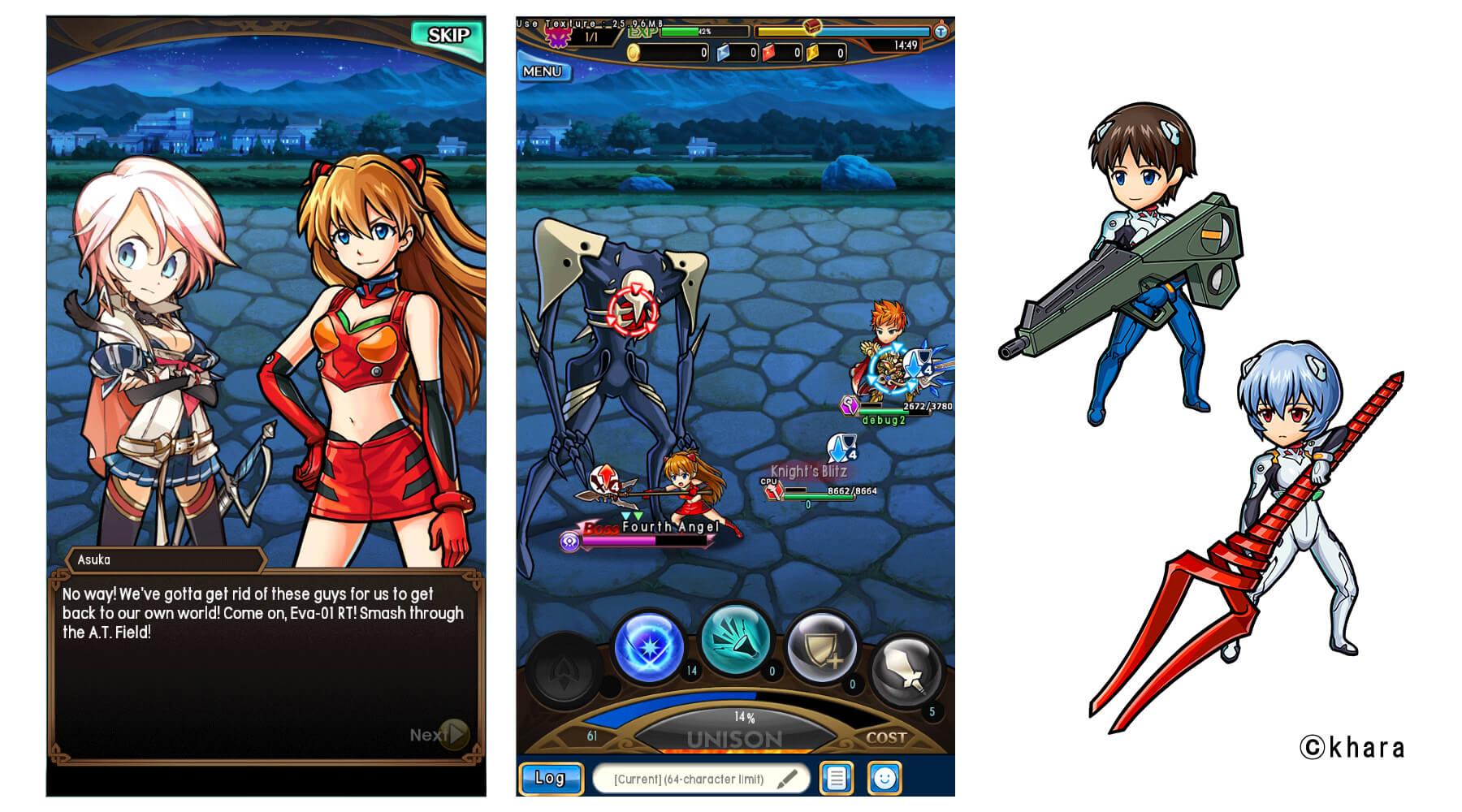 ③ Dominate the Ranking Event to Get UR [RQ] Asuka (P) and Exclusive Collaboration Customization Items!
Schedule: 5:00 a.m. on 8/15 (Mon.) – 1:59 a.m. Unison Time on 8/26 (Fri.), 2016
Climb to the top of the rankings in the event and bag yourself exclusive UR-rarity character [RQ] Asuka (P), Asuka with a parasol in a seductive race queen outfit. High rankers will also be rewarded with a chance at customization items and Furniture for the Room feature only obtainable from this collaboration event!
*The ranking event is broken into two halves and UR [RQ] Asuka (P) is the reward for the first half.
④ Original Evangelion Unit-01 Unison Attack!
Throw up a set amount of Evangelion characters when a Unison Chance comes around to summon Evangelion Unit-01 to deliver a mighty Unison Attack! This completely original attack animation, which features Evangelion Racing machines fusing with the iconic unit, is sure to blow you away!
⑤ Evangelion Lobby Makeover! Evangelion Here, There, and Everywhere!
Schedule: 5:00 a.m. on 8/15 (Mon.) – 1:59 a.m. Unison Time on 9/8 (Thu.)
During the above period, the lobby background with be given an Evangelion overhaul. Character comments and Quest
boss warnings are just some of the other places you'll feel the Evangelion takeover!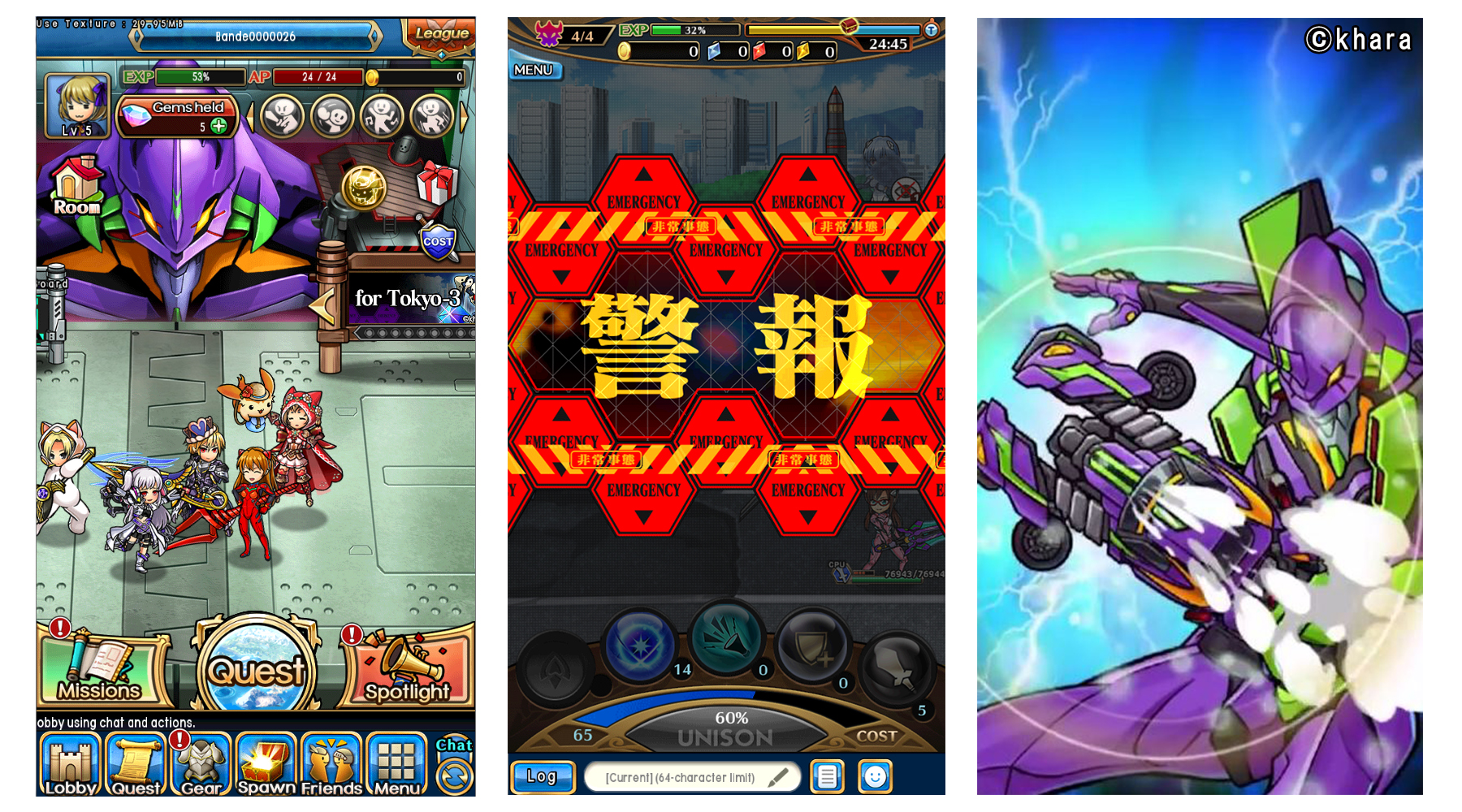 ⑥ Free Evangelion Spawn Every Day! Plus, 1 Collaboration UR Guaranteed Spawn! 
Schedule: 5:00 a.m. on 8/15 (Mon.) – 1:59 a.m. Unison Time on 8/26 (Fri.), 2016
Collaboration Spawns that feature Evangelion Unit -01 and the infamous Spear of Longinus are here! A free Spawn that can be performed once a day is now available along with a Spawn that guarantees 1 UR collaboration item. Equip original Gear styled on the weapons from Evangelion, "Spear of Longinus" and "Progressive Knife" and use their special properties to carve your way through the collaboration event Quests.

*From the left: SSR Anti-Angel Greatsword, SSR N2 Missile , SSR Spear of Longinus
Enhancement Campaign in Celebration of Evangelion Collaboration!
Level Caps Increased, Element Rush Quest AP Costs Halved, and Other Special Treats!
To celebrate this momentous collaboration, an enhancement campaign is now under way. Level caps have been increased, Element Rush Quest AP costs have been halved, and other special bonuses have been added to help players beef up their characters! See below for campaign details.
▼Enhancement Campaign
Schedule: 5:00 a.m. on 8/15 (Mon.) – 1:59 a.m. Unison Time on 9/8 (Thu.), 2016
・Player level caps increased from 120 to 125 and Room Rank increased from 6 to 7
・Great success rates when Augmenting weapons, monsters and defense Gear are boosted
・50% more EXP, Proficiency, and Gold in Quests
・Element Rush, Augment, and Reforge Quest AP costs halved
・Bonus Gem campaign added. Get up to 100 free Gems!
*The level cap and Room Rank increases took place at 5:00 a.m. Unison Time on 8/15 (Mon.), 2016 and are permanent
*The bonus Gem campaign ends at 1:59 a.m. Unison Time on 8/26 (Fri.), 2016
Unison League promises to continue bringing you exciting new events and campaigns to keep the experience as fresh
and as exciting as possible.
■Rebuild of Evangelion
Rebuild of Evangelion is a Japanese animated film series that first debuted in 2007. The latest addition to the series, Evangelion: 3.0 You Can (Not) Redo, (the third title in the four-part series) was released in November 2012 and saw more than 3.8 million fans flock to the cinema screens. It also cleared more than 52 billion yen, or at the time, 60 million US dollars in box-office takings. Evangelion enthusiasts around the globe patiently await the fourth and final installment in the series, Evangelion: 3.0+1.0, which is still yet to be given a release date.
Copyright notice: ©khara
■Evangelion Racing
Evangelion Racing is a real-life racing project created through the amalgamation of the well-known animated series "Rebuild of Evangelion" and a racing team. It was established in 2010 and is this year celebrating its seventh year in the fast lane. The project features racing machines with aesthetics inspired by the notorious giant robot "Evangelion Unit-01" from the animated series. Eye-catching models dressed up as characters such as Rei Ayanami also add a cheeky touch to the racetracks. In the two-wheel category, Evangelion Racing participated in the Suzuka 8-Hour Endurance Road Race and the All Japan Road Race Championship in 2016, and for the first time in 3 years, it made a return to the four-wheel races in the SUPER GT and took on the competition in the FIA-F4 for the first time.
■About Unison League
Unison League is Ateam's hit smartphone RPG offering which originally launched in Japan on December 4, 2014 before seeing an English release several months later. In the game, players cooperate with their friends to unleash powerful special attacks and take part in heated real-time battles to earn new weapons and equipment to gear up their characters. The cool, stylish characters and world setting add depth and flair to the title.
Collaboration Site: http://app.a-tm.co.jp/unisonleague/en/campaign/eva/
[APP DETAILS]
Title: Unison League
Supported devices:
iPhone 4s or later, iOS 6.0 or higher recommended
Devices that come standard with Android™ 4.0 or later (excluding some devices)
Price:
Free to play (in-app purchases available)
iTunes App Store: https://itunes.apple.com/us/app/unison-league/id968953976
Google Play: https://play.google.com/store/apps/details?id=en.co.atm.unison
Amazon App Store: http://www.amazon.com/gp/mas/dl/android?asin=B0169VW5WY
Official Unison League Website: http://app.a-tm.co.jp/unisonleague/en/
Facebook Page: https://www.facebook.com/unisonleague.ateam
Opening Movie: https://www.youtube.com/watch?v=7I4hEIPblVo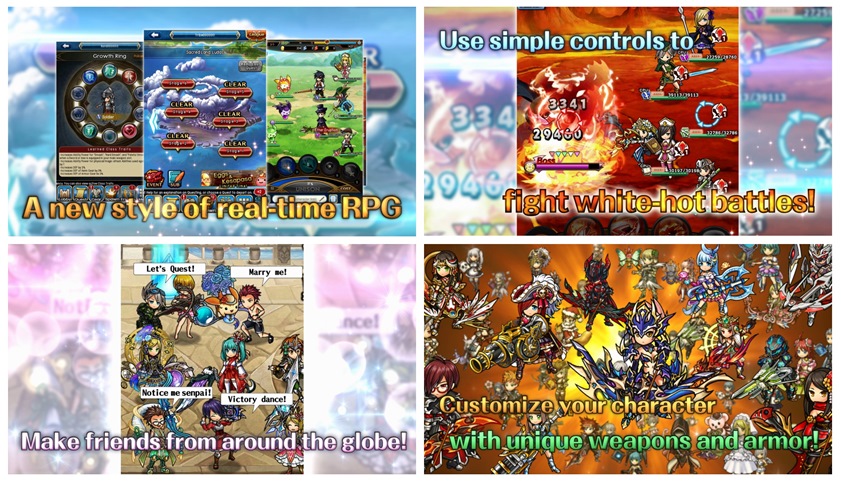 *Collaboration details may be changed at any time without prior notification.
*All company and product names herein are trademarks or registered trademarks of their respective owners.
*Images contained herein are for illustrative purposes and may vary from the final product.
[CONTACT ATEAM ABOUT THIS NOTICE]
Kensuke Shibata
Manager, Marketing Group
Ateam Inc.
TEL: +81-52-747-5564
FAX: +81-52-747-5560
Mail: press@a-tm.co.jp
URL: http://www.a-tm.co.jp/en/